Have Your Say on Anglesey
Welcome to Have Your Say, the new facility for visitors here at Anglesey Today.
You may have a question about an article you've read on the site or a really burning issue about something happening on Anglesey right now that you would like to have your say about.
There again, perhaps you are looking for a long, lost friend or family member, and you can post your message here.
Below are contributions from visitors, some local some from overseas. Please feel free to make a comment or ask a question or answer a previously asked question.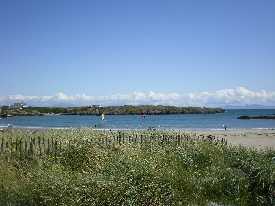 Your Say
Your comments are posted here:
I lived and served with the Armed Forces at Ty-Croes , Anglesey in the 60s. Do you have any way where I can look for similar folks living over there. I visit Anglesey, where my son lives with wife and kids . Thanks
C Tony Vella, USA
I note your article on Rhosneigr Beach and the photograph showing part of the Bay Hotel development. You should know that I have been trying to get asbestos and building rubble resulting from the site development removed from the area. This has been going on for 4 years and I have tried without success to involve the AM, the MP the local councillor, the environment agency etc.. Do you want to have a go? Come and see for your self...
Mark, Rhosneigr
I am bringing a fantastic group of Czech and Slovac musicians and yogis over to the UK this September and have booked an evening in Holyhead for Thursday 20th September.
Jonathan Trapman, UK
I was a beauty therapist, nurse, lecturer (Masters). Now I am a life coach and mother. I have MS. A number of my clients have significant weight issues and they are doing so well. I have done some study in Diet and Nutrition but I know I am far from fully informed on all aspects of the subject. I have however, finally found my true passion. I live in Dublin and truly want to do the best course available. I would deeply appreciate your advice.
Una, Dublin
Hello, I am organising a visit to Anglesey by the Welsh Mills Society, scheduled for April 2008. We have heard about the excellent water mill in Cestyll Gardens and would like to include it in our tour. Could you advise me please whom to contact about arranging such a visit? Incidentally, can you also suggest where our party of about 40 people might stay on Anglesea? We shall need somewhere that can provide a meeting room. Many thanks.
Dave Smith, Welsh Mills Society
Myself and some friends are coming to stay in Anglesey this weekend to camp. We want to be as close to Llanddona beach as possible. Can you recommend a campsite? I would be happy to send in a review of it afterwards if you can help!!
Jenna, Manchester
David, I have sent you the results for Friday Night's playing at Benllech Bridge Club
Frances, Benllech
Where can I find information on group travel from Valley to Cardiff with a tour of Cardiff included, and how much does it cost? We are a party of possibly 15 adults, who are all pensioners, would there be a concessionary fare?
John, North Wales
Hello, I am trying to find postcards on the Beaumaris Castle and on Anglesey lighthouses. I have collected postcards for 45+ years and am trying now to get things i never will see. I will send a money order to cover costs. Can you help me please? Let me know. Thank you for your valuable time! Your area is magnificent! Such beauty and heritage.
Judy Blauer, USA
---
Now you can keep up to date with the latest news and articles by subscribing to our free Anglesey Today Newsletter. Just complete this form here. It's as easy as 1-2-3!

---
Photo by Paul Mattock

Related Links:
Anglesey News Archives
Anglesey Sitesearch




What Other Visitors Have Said
Click below to see contributions from other visitors to this page...

Return to Anglesey News Latest

Return to Contact Us Form from Your Say

Anglesey Today