Anita joins Anglesey Artists
by Jo Quinney
(Menai Bridge)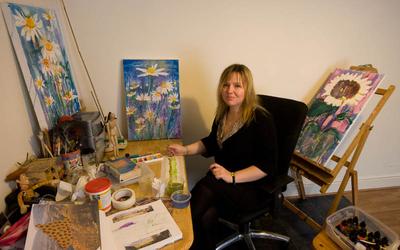 Anita Ricketts, drawing, painting and mixed media, at her studio in Holyhead
When Anita Ricketts saw a group of girls carrying large canvases walk past her window, she made a decision to follow them, carrying her painting up the hill to the Ucheldre Centre.


By entering her painting into the 'Art for All' exhibition at the arts centre in Holyhead, Anita began to realise her dream of becoming a professional artist.
"I had always wanted to be an artist. When a colleague showed me her paintings, I thought "I can do that" and I picked up my paintbrush and began.
Over the years I have painted, looked after my family and worked. I recently completed the first year of a HND in art, while living on the Isle of Man.
This gave me the confidence when I returned to Anglesey to begin my professional art practice, enter competitions, sell my work, become a member of the Anglesey Arts Forum and plan to open my studio at Easter," said Anita, an artist and ceramicist who works primarily in watercolour, ink, acrylics and mixed media.
Anita comes from Caergeiliog, Anglesey, and has lived away a few times over the years. She recently returned home to live in Holyhead with her family.
"This is not a "pipe dream" anymore; having a painting accepted into the
Art for All
exhibition was great and selling it was the icing on the cake. I have joined the Anglesey Arts Forum and I am planning to open my studio to visitors over Easter this year," said Anita.
The Anglesey Arts Forum promotes the arts on Anglesey. The voluntary committee focuses on organising the Anglesey Arts Weeks. Open Studios and Galleries during Easter, 23 March to 7 April 2013, and the Anglesey Performing Arts Weeks in October.
It is free to become a member of the Forum, with a fee applying to artists who wish to open their studios and benefit from this funded event.
The recent funding from project supporters has allowed the Anglesey Arts Forum to develop its website, produce and distribute a Guide and include minibus tours during the event.
The Arts Forum project has received funding through the Rural
Development Plan for Wales 2007–2013, which is funded by the Welsh Government and the European Agricultural Fund for Rural Development.
"We have firmly established the Open Studios Weeks in the calendar as the most wide-ranging arts event on the Island. We encourage artists who have recently moved to the Island or would like to open their studio for the first time to join in," said Mike Gould, Anglesey Arts Forum voluntary Chair.
The Anglesey Open Studios and Galleries Weeks event guide is about to be published, with 50,000 copies being printed and distributed widely.
Exhibitions will be held during the event in Holyhead, Llangefni and Beaumaris, 23 March to 7 April. A full website listing with accompanying images is available online at
http://www.angleseyartsforum.org
"I knew I needed something to get me going and joining the Anglesey Arts Forum will be a great support. Preparing work for the Open Studios event has given me a focus. I am freeing up my time to draw and paint," said Anita.
Anita visited artists during the last Open Studios event last Easter. "Everyone I went to visit was very enthusiastic and friendly. I bombarded them with questions and they were very giving in their expertise and time. The Open Studios event is great – I am looking forward to being part of it this year," said Anita.
Although too late to be in the Guide, you can still be a part of the Anglesey Arts Weeks: Open Studios and Galleries from, 23 March to 7 April 2013, by being included on the website and benefit from this funded event.
To join you need to be working, living or exhibiting on Anglesey and email Heather at he(at)ucheldre(dot)org or call her on 01407 763361 to get your details added.
"We welcome Anita and every artist, craft worker, artisan or gallery owner who is thinking of joining our event. Our funding during 2013 will allow us to offer great benefits to those participating in the Open Studios and Galleries Weeks'," said Mike Gould.
For more stories and articles, subscribe to our free
Anglesey Today Newsletter
here. It's as easy as 1-2-3!