Anglesey Wildlife for all
Now you can experience Anglesey wildlife by following the news from the Anglesey branch of the North Wales Wildlife Trust as well as other independent sources
Learn about island wildlife from expert speakers at regular meetings of the North Wales Wildlife Trust here on the island.
Below you will see information from previous meetings on wildlife with details about the speaker, venue and topic.


Spotted Rock Rose


---
So What Can You Discover, Beachcombing an Anglesey Beach?
---
CLICK CLICK HERE FOR LATEST ANGLESEY WILDLIFE EVENTS AND NEWS
An introductory article from the North Wales Wildlife Trust, Anglesey branch.
The North Wales Wildlife Trust is a registered charity dependent on its members and voluntary contributions.
It is one of 47 local Wildlife Trusts in the UK that together care for almost 2,500 nature reserves, ranging from woodland to wetland and urban pocket to rocky wilderness.
Six of these reserves can be found on Anglesey, the largest one being Cors Goch, which has the status of a National Nature Reserve.
Cors Goch is famous for its calcareous fenland and acidic heathland, which both support rare plant and invertebrate species.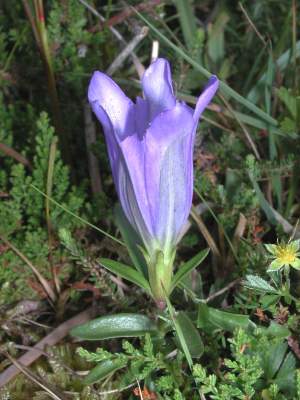 One of these invertebrates is the Medicinal Leech, found only on a few sites in Wales.
At least eight species of orchid and the Marsh Gentian feature in the reserve's flora.
Anglesey's county flower, the Spotted Rock-rose, is nationally rare.
It can, however, be found near South Stack at another of the Trust's reserves.
The Anglesey Wildlife Branch of the North Wales Wildlife Trust was established in 1970.
It supports the aims of the Trust which are to:
promote a better understanding of wildlife, the use of the countryside and its protection.

acquire and manage reserves for the conservation of wildlife and for teaching and research.

co-operate with the public, communities, landowners, local councils and with other national and local bodies interested in the heritage of wildlife.
The Branch holds regular meetings covering a wide variety of topics and activities including:
afternoon and evening talks about many different aspects of wildlife and conservation.

workshops on plant and animal identification.

field visits to nature reserves and other areas of wildlife interest.

open days at gardens managed with wildlife in mind.

opportunities for assisting with the management of reserves.

We'd love to see you at our meetings, which are open to all. Many of our activities are kindly publicised by the Anglesey Informer, but you'd be even better informed if you become a member of the Trust yourself and you'd be doing your bit for local wildlife!