Anglesey News Archive
Welcome to Anglesey News archive. This enables you to catch up with short items you may have missed when first released on our Anglesey Blog.
This Anglesey archive will cover events that happen on the island or elsewhere but which have some significance for the future of Anglesey.
What are you looking for? Try here.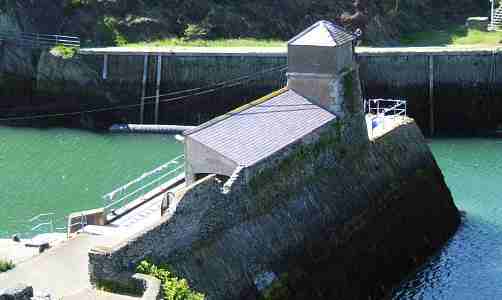 You can also subscribe to our FREE monthly newsletter, Anglesey Today Newsletter, just go to our Newsletter page and complete the simple form, with your first name and e-mail address.


PREVIOUS ISSUES
JUNE 2007 NEWS
MP's EDM supports Wylfa B on Anglesey
An Early Day Motion (EDM 1632) has been tabled in Parliament by Anglesey MP Albert Owen, calling for the support of Wylfa B, the putative new nuclear build power station at Wylfa on Anglesey.
This comes just over a week after another EDM called for Wales to become nuclear free, and calling for significant expansion of renewable forms of energy.
It looks as if the coming weeks will be quite interesting with these two rival EDM's following on the heels of the Energy White Paper and new nuclear consultation document.
At the latest count there were 7 signatures on the EDM.
Either way time is not on our side and tough decisions need to be made sooner rather than later.
Highland Airways names Anglesey Cardiff Plane
Highland Airways has named its Jetstream 31 aircraft North and South. The company runs the new twice daily Anglesey Cardiff flight from Anglesey Airport at RAF Valley.
The official name was unveiled by Brian Gibbons, Welsh Assembly Enterprise, Innovations and Network Minister.
Dr Gibbons said that the new north-south air bridge will help to bring the different parts of Wales together.
He added that this initiative will strengthen business links between North and South Wales and give a boost to tourism.
Hain visits Anglesey Airport and RAF Valley
Secretary of State for Wales and Northern Ireland Peter Hain visited Anglesey Airport and RAF Valley this week.
Accompanied by local MP Albert Owen, Mr Hain saw the new airport terminal which hosts flights from Cardiff to Anglesey.
The Welsh Secretary has been fully supportive of this project during the long and succesful campaign, led by Mr Owen, to secure the crucial transport investment on the island.
Mr Hain also toured the RAF base and was briefed on the defence investment here which includes the Hawk jet maintenance and the search and rescue service.
Mr Owen also highlighted the importance of support from the Welsh Secretary at Westminster for both Wylfa Power Station and the Anglesey Aluminium smelter at Holyhead.
Both these companies play a major role in the local economy, generating a large slice of the island's income and jointly employing over 1500 people.
---
Related Links:
Anglesey Sitesearch
Have YOUR Say on Anglesey Now
---
---
Keep up to date with the latest articles, local stories and videos. Get your copy of our free Anglesey Today Newsletter. Just complete the simple form here. it's as easy as 1-2-3!
---
---