Anglesey News for January 2007
Here you can review January 2007 news and events on Anglesey that you may have missed earlier.
We hope you find the information helpful and we welcome your comments.
Just click on the contact us button in the navigation bar on the left.
Enjoy!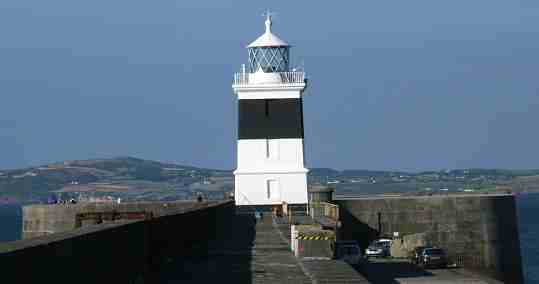 Joloda International Boosts Anglesey Jobs
Joloda Interantional announces 50 new jobs will come to its Anglesey manufacturing facility in Gaerwen.
Following its $1m purchase of Advanced Handling Systems (AHS) of Pensylvannia, Joloda has doubled its market share from 40 to 80 per cent.
Joloda International manufactures the Hydraroll bulk handling roller track system which makes loading and unloading of air cargo safer.
Formed in 1969, Joloda employs over 100 people at its locations in Anglesey, Liverpool and Holland, and is very confident about the future.
"We have aggressive expansion plans for the next few years and are aiming to increase turnover at our Liverpool and Anglesey sites by 80m pounds" said Wojtek Kordel, Managing Director of Joloda International.
Ghost Search at South Stack Lighthouse
A paranormal investigation took place at South Stack Lighthouse recently, carried out by the Most Haunted team from the popular TV series.
Yvette Fielding and her team, with psychic medium David Wells, stayed overnight at the lighthouse to do their investigation.
After learning about the deaths of lighthouse keepers on South Stack, Most Haunted were keen to get to the bottom of things.
Apparently, during the survey one of the team had stones thrown at them, one had his arm pinched, while another had a bone thrown at them. Spooky stuff indeed.
For those who enjouy these events, you can see the film on Living TV. Quite ironic for an activity associated with the dead.
Business on Anglesey New Launch
FREE Membership for Businesses until 23rd June 2007
Business on Anglesey is offering 6 months free membership, this offer is open to all existing, lapsed and new members.
Mike Squire, Chair of Business on Anglesey said no meetings have been held for 6 months and so they are offering FREE membership until 23rd June 2007.
It is a great offer and I am looking forward to discussing our plan for 2007 at our meeting on Tuesday 23rd January, he said.
The Board of Business on Anglesey realised early last year that cash flow was way out of balance.
The Board halved the amount of admin services required, which was not sustainable to the admin service provider, said Mike Squire. They agreed to part company mid 2006.
The next meeting is at 6.30pm Tuesday 23rd January 2007, at the Anglesey Business Centre, Llangefni (Council building opposite Menter Mon).
Mike Squire will discuss the Business on Anglesey plan for 2007, Martin Eaglestone, Principal Planning Officer Anglesey County Council, will discuss the Local development Plan and take your questions on business planning issues.
Eleri Salisbury, Civil Contingencies Officer Anglesey Council, will discuss disaster recovery for business and take your questions.
Refreshments and snacks will be served. For more information contact Jo Quinney on (01248) 752611
Holyhead Railway Jobs Boost
Holyhead is in line for a 12 million pound railway depot project, with the potential for a jobs boost of up to 50 skilled posts.
Plans believed to have been submitted to Anglesey County Council would see a maintenance depot sited next to the Anglesey Aluminium smelter.
This depot would service all trains and carriages entering Holyhead, including cleaning, wshing and refuelling. There would also be an admin building next to the depot, subject to planning approval.
A new road would also link the port of Holyhead from the Kingsland roundabout, where the A55 trunk road ends.
---
Related Articles:





Return to Anglesey News Archive from January 2007 News

Anglesey Today