Anglesey News for November 2006
Here you can review Anglesey news and events you may have missed for November 2006.
We hope you find the information helpful and we welcome your comments.
Just click on the contact us button on the left.
Enjoy!

Holyhead Mountain, peak and trig point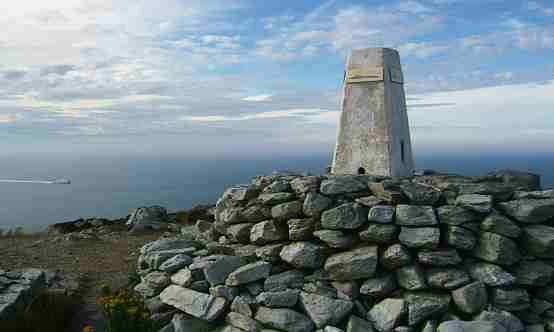 ---
Holyhead remembers Connemara tragedy
Holyhead today commemorated the 90th anniversary of the tragic sinking of the passenger steamship, SS Connemara, off Carlingford Lough, Northern Ireland on 3 November 1916.
The London and North Western Railway Company steamer, Connemara, was on passage to the port of Holyhead, Anglesey when she was hit amidships by the Retriever, a coal ship sailing from Garston to Newry. The collision occured about half a mile off the Carlingford bar in atrocious conditions resulting in the loss of 97 lives.
All 30 of the crew who came from Holyhead were lost. There was only one survivor, 21 year old James Boyle, a fireman on board the Retriever.
Up to twenty people came over from Ireland to join descendants of the victims in a commemoration at Holyhead which included a wreath-laying ceremony at the Cenotaph on Victoria Road and a remembrance service at the church of St Cybi.
Anglesey Beaches meet high standards
The beaches of Anglesey have again met the very demanding EC Mandatory Standards for bathing waters.
Recently, Carwyn Jones AM, Welsh Assembly Government Environment Minister, announced that 99 per cent of identified beaches and bathing waters in Wales had achieved this mandatory standard.
Again we see Anglesey beaches at Silver Bay and Borthwen in Rhoscolyn, Rhosneigr and Aberffraw coming up to the mark. It was also good to see Benllech, Traeth Lligwy, Church Bay, Llanddona, Trearddur Bay and Porth Dafarch make the grade. And Llanddwyn Beach, where Demi Moore filmed her movie Half Light, was again up there with the best.
Blue Flag beaches must not only meet guideline water quality but also other targets covering litter, safety, education and facilities. Along with other beaches along the Wales coast, Anglesey beaches were sampled regularly between 1 May and 30 september by the Environment Agency.
Beaumaris Marina delayed by appeal
A judicial review by mussel fishery owners in the Menai Straits could threaten major funding for the 9 million pound Beaumaris Marina on Anglesey.
The fishery companies are going to the Court of Appeal to try overturning the Welsh Assembly licence approval for a marina development at Gallows Point.
Anglesey Boat Company, who are behind the project, say the marina would take up less than 2 per cent of the mussel fishery area. The company believes both marina and fishery can co-exist.
The stakes are high when one considers that up to 140 new jobs could be created on Anglesey with completion of Beaumaris Marina.
Beautiful Anglesey in 2007 Calendar
Local professional photographer Paul Mattock has just released a new calendar capturing the fine views of Anglesey.
With such a wide range of spectacular land and sea scapes to work with, this calendar gives visitors and locals the chance to enjoy some great scenes.
For more information contact Paul Mattock on (01407) 720407
Anglesey Gas Plant model displayed
Canatxx LNG Limited has placed on public display at Anglesey County Council Offices in Llangefni a model of its proposed regasification facility at Amlwch.
Members of the public can view the model in the Rovacabin offices Monday to Friday from 8.45 a.m to 5 pm.
Also available will be brochures from the original July Public Consultation Exhibition and full details of the plans.
The planning application was submitted in early October and is available for public viewing at Amlwch Town Library. Members of the public are invited to complete feedback forms for their opinions on the project.
"It is important to us that everyone is aware of our plans and has a chance to view the model, application and share their views." says Bruce Gibson, Canatxx Site Manager.
Canatxx LNG, based in Kirkwood, Lancashire, owns the land and facilities at the former Great Lakes site in Amlwch.
Anglesey pilots faster property searches
House hunters on Anglesey will now benefit from a new electronic search facility recently launched by Anglesey County Council.
The new system should speed up the often lengthy process of property searches. And solicitors should be able to offer a more efficient land search service to their clients.
This move is timely because next summer will see the introduction of the Home Information Pack (HIP). Under this system, all homeowners selling their house have to provide this information before their property is put on the market.
As the search is often what slows down the buying process, the inclusion of searches in the HIP will clearly speed matters up.
All local authorities in North Wales are now linked up to the National Land Information Service, which should see search times fall to less than 6 days.
Anglesey Airport makes progress
Work continues apace on the Anglesey Airport project at RAF Valley. With up to one million pounds invested in this Welsh Assembly supported initiative, the airport is expected to be ready for spring 2007.
Anglesey Airport will operate independently of the RAF base though it will have permission to use the runways, fire service and control tower.
Minister for Enterprise, Innovation and Networks, Andrew Davies AM welcomed the progress of the project, saying: " Anglesey Airport will act as a catalyst for trade and investment in North Wales."
Council Leader, Cllr. Gareth Winston Roberts said: "This project is a great boost for Anglesey and it will certainly help to attract more inward investment."
---
To keep up to date with what's happening on the island you can now subscribe to the free Anglesey Today Newsletter. Just complete the simple form below.

Related Articles:




Return to Anglesey News Archive from November 2006 News

Anglesey Today