Kriket Broadhurst, Jewellery Designer-Maker, Beaumaris, Anglesey
by Jo Quinney
(Menai Bridge)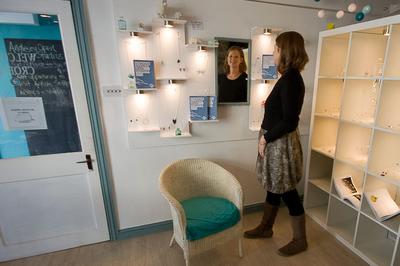 Kriket Broadhurst, Jewellery Designer-Maker, at The Beaumaris Jewellery Studio, Anglesey.
Living, working and designing in Wales are the biggest influence on Australian-born jewellery designer-maker Kriket Broadhurst.


Her unique studio in Beaumaris is part of the Anglesey Arts Weeks Open Studios and Galleries, which starts on Saturday 23 March and runs over Easter.
Kriket's combined studio and gallery space is unique to North Wales as it exclusively showcases designer-made jewellery that is proudly made in Wales.
"Living, working and designing in Wales influence my work. For such a rural area, which isn't densely populated, the quality of work is so good. I want to promote the work of local jewellers as I am so impressed by their great work," says Kriket.
At Kriket's gallery, both her jewellery and the work of eight other designer-makers are displayed: Angela Evans, Jane Fairbairn, Sara Lois, Elin Roberts, Caroline Royal, Karen Williams, Annie Williams and Lora Wyn. Kriket works from the Beaumaris studio behind the gallery with Jane Fairbairn and Lora Wyn.
"If you look at the work of the Anglesey Arts Forum members and their subject matter, we are all influenced by North Wales because it is very dramatic. You just drive across the Island and you have the mountains, the sea and the weather. As artists, craftspeople and designer-makers, we are all influenced by this," says Kriket.
To support local artists, the Anglesey Arts Forum, Anglesey Arts Weeks Open Studios and Galleries 2013 project has received funding through the Rural Development Plan for Wales 2007–2013, which is funded by the Welsh Government and the European Agricultural Fund for Rural Development.
After graduating with a degree in design, Kriket worked as a public and community artist specialising in mosaics in Australia. When she moved to the UK, she began to develop an interest in being a silversmith, designing and creating jewellery.
Her work features unique, hand-crafted ceramic beads and sea-glass. Sea-glass
is found along the Anglesey coastline and is physically weathered glass that produces a natural frosted effect.
"I am a specialist at making ceramic beads because of the years I have spent experimenting. I have taken making beads to a higher level. I also work with sea-glass, which is proving very popular," says Kriket.
Anglesey Arts Weeks Open Studios are divided into Clusters to help artists work together in a locality. Kriket is a member of the Beaumaris Cluster.
Artists in the Beaumaris Cluster also include: Alison Englefield, Clare Calder-Marshall, Tupe Langi, Anne Snaith, Susan Parry, David Jones, Gorgina Rambton, Jane Bunce, Michael Linford and Gwilym W Hughes.
In addition to the work of artists being shown in the David Hughes Centre, Beaumaris, there is an exhibition of Coleg Menai students' textile work in Canolfan Beaumaris.
Using the forty-eight-page colour Guide, you can plan to visit jewellery designer-makers such as Kriket and Flights of Fancy, or textiles designer-makers such as Anna O'Higgins, Dorothy Russell, H'artworks, Irene Taylor Moores, Jayne Huskisson, June Hughes and Arfryn Textiles.
To help you plan your Open Studios and Galleries visit, a Guide is available that contains opening days, times, a map and a route planner, and it is available to download online at http://www.angleseyartsforum.org/.
"My customers are coming back to The Beaumaris Jewellery Studio to buy quality, locally made Welsh jewellery. Local people like to support Welsh designers and the visitors enjoy a studio and gallery where they can buy unique jewellery," says Kriket.
The event runs from Saturday 23 March to Sunday 7 April 2013. Most studios and galleries can be located using the Guide and following the sign-posted Forum logo and arrow.
For further details, daily schedules, member profiles, images and information about the studios, go to:
Anglesey Arts Week
For more articles and stories, subscribe to our free
Anglesey News
here.