The Walk, Helping Anglesey's Vulnerable Young People
by Jo Quinney
(Menai Bridge)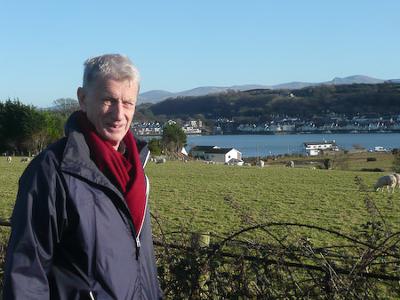 Robin Grove-White training on Anglesey
The High Sheriff of Anglesey and Gwynedd, Professor Robin Grove-White, launched his campaign "The Walk" this week to raise funds for organisations supporting vulnerable young people on Anglesey.


Robin and his wife Helen will be tackling "The Walk", 125 mile around the Anglesey Coastal Path over 15 days at the end of March 2012.
"As High Sheriff my role is to encourage good citizenship and justice. I have become attuned to the pressing social concerns of the island, especially the growing number of 16 to 24 year olds without jobs or immediate prospects.
At a time of mounting economic pressure across Wales it's the responsibility of all of us to support the local charities and other innovative bodies who are creating new opportunities for these young people," said Professor Robin Grove-White, High Sheriff of Anglesey and Gwynedd.
Official figures show that 24% of 16 to 24 year olds on Anglesey are currently unemployed "We must not abandon a generation of young people because of the challenging economic climate.
In raising awareness and funds we are helping young people face these challenges and I hope together we can provide them with support, activities and fresh opportunities," said Robin.
Robin and Helen's target is to raise £25,000 to help Anglesey's third-sector and voluntary organisations provide young people with new practical initiatives, confidence-building activities and more opportunities for work experience.
The High Sheriff's charity, Crimebeat with expert advice, will allocate
funds to local charities and other innovative bodies that really understand the issues through their hands-on experience.
"I am pleased to be assisting Robin in his efforts. I work with voluntary and community organisations on Anglesey. I deal with the funding challenges many organisations now face.
In raising this issue Robin is responding practically to the challenges we face as a community," said Bethan Lloyd Jukes, Youth Volunteering Officer at Medrwn Môn and member of "The Walk" committee.
During "The Walk" Robin and Helen will be taking part in number of fundraising events including a wine, cheese and pudding evening at Beaumaris Yacht Club, an Open Garden morning or afternoon at Plas Cadnant in Menai Bridge, a Youth Challenge Day at RAF Valley, and a buffet lunch at the White Eagle Pub in Rhoscolyn.
Anglesey Coastal Path
More information is online at www.crimebeatnorthwales.co.uk/thewalk. Tickets for the events are now on sale by emailing TheWalkTickets(at)gmail(dot)com
"We would welcome sponsored walkers to join us on number of walks during the 15 days. We will also be joined by the voluntary organisations and some of the young people we are aiming to support.
Please make a donation, join a group walk or enjoy one of our fundraising events," says Robin.
The Walk website: http://www.crimebeatnorthwales.co.uk/thewalk/
The Walk Facebook page:
http://www.facebook.com/pages/The-Walk/176199905814097
Just Giving page www.justgiving.com/theangleseywalk
For more local stories and articles, subscribe to our free
Anglesey Newsletter
here. It's as easy as 1-2-3!