57 Anglesey Artists and 8 Galleries
by Jo Quinney
(Menai Bridge)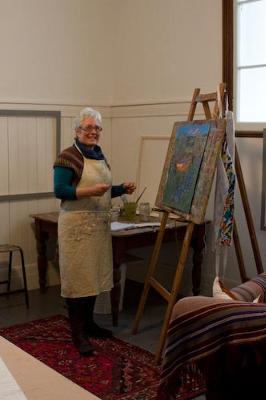 Helen Lopez at her studio/gallery in Llanedwen, Llanfairpwll
During the Anglesey Open Studios and Galleries Weeks, don't miss a fantastic opportunity to visit 57 artists in their studios, and 8 galleries during the Easter weekend.


This is the biggest number of free events on Anglesey during the annual Easter celebration of artistic endeavour.
"A good place to start your artistic adventure would be at the two exhibitions in the Ucheldre Centre, Holyhead, and the David Hughes Centre, Beaumaris.
These exhibitions have at least one piece of work from each participant. You can view the artist's work and plan to visit their studio; just pick up a Guide and find locations and opening times," said Mike Gould, Chair of the Voluntary Anglesey Arts Forum Committee.
In addition to the following exhibitions, there are a further 7 galleries open:
Oriel Glyn Davies Gallery, Menai Bridge, featuring Glyn's fine-art Welsh landscape photography;





Steven Jones Gallery, Beaumaris, featuring Steve's coastal scenes and new paintings;





H'Artworks, Beaumaris, featuring Anne Snaith's mixed-media work, including silk painting, glass and textiles;





Siop y Porth, Holyhead, featuring a variety of work from the Ffatri Fenter® Taste of Enterprise project;





ArtSpace, Holyhead, featuring the work of Jacquie Myrtle and Tim Dickinson;





Oriel Daniel Gallery, Llangefni, a busy tea room and gallery with prestigious artists work on show;





Oriel Ynys Môn, Llangefni, featuring the work of Gilly Thomas 'Uncanny Connections', and Kyffin Williams collection.


The individual artists in a particular geographic area have joined together to form Clusters, including the
Rhosneigr, Northern and Beaumaris Clusters.
Artists within these Clusters promote each other's work.
"The Cluster co-operates and you can visit artists in a particular area in one day; everyone co-ordinates opening times to make this possible," says Mike.
"Please come visit some of the 57 artists and 8 galleries open over Easter," said Mike. The guide is available online at www.angleseyartsforum.org or contact Heather on 01407 763361 or he(at)ucheldre(dot)org.
This year the event has gained new financial support from the North Wales Open Studios Network (working in co-operation with Helfa Gelf/Art Trail), which has received funding through the Rural Development Plan for Wales 2007–2013, funded by the Welsh Government and the European Agricultural Fund for Rural Development.
This funding has enabled the printing and distributing of the annual Guide listing all the artists, galleries and events, with opening times and directions to help you plan your visit.
The 2012 Open Studios and Galleries Weeks Guide is available at www.angleseyartsforum.org, which also has information about the Anglesey Performing Arts Weeks from Friday 19 October to Sunday 4 November 2012.
The website will also have details of any changes, and information about new artists who are opening their studios but are not in the printed Guide.
The Anglesey Arts Forum is also supported by the Arts Council of Wales, Isle of Anglesey County Council, and Menter Môn.
For more local stories and articles, subscribe to our free
Anglesey News
here. It's as easy as 1-2-3!