Wylfa B, New Nuclear Build on Anglesey
Wylfa B is the name given to the putative new nuclear power station at Wylfa on Anglesey in the UK.
The present Wylfa Magnox Power Station is set to close in 2010, followed by defuelling up to about 2012.
There will then follow a long period of site clean-up and demolition as part of the planned decommissioning process.
Whether Wylfa B goes ahead depends very much on the long term energy strategy adopted by the UK government.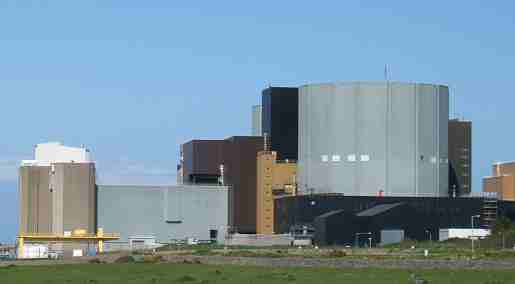 Against a backdrop of rising global energy demand and increasing concerns about greenhouse gas emissions, the need for action is urgent.
Clearly, the recent comments in Parliament by Alistair Darling, UK Trade and Industry Secretary, that the government intends to give the private sector an opportunity to invest in a new nuclear build programme is very encouraging.
The new White Paper entitled "Meeting the Energy Challenge" sees nuclear energy making a significant contribution to the energy mix for the UK going forward.
---
At the moment nuclear power contributes about 20 per cent to UK electricity generation, but this will fall drastically to less than 7 per cent by 2023 with the closure and decommissioning of the aging Magnox and AGR reactors.
Only the PWR reactor at Sizewell B in Suffolk would remain after this time if no further plants are built.
This represents a huge loss of low carbon generated electricity capacity and if the government wants to keep on track for its own emission reduction targets, new build seems an urgent priority.
Policymakers face a huge dilemma as the UK will face a cut of over a third in its generating capacity over the next decade as a result of retiring nuclear and coal plants, the latter to comply with EU cleaner emissions regulations.
While the government energy white paper covers issues including energy efficiency and boosting electricity sourced from renewables to 15 per cent by 2015, it is clear that nuclear build grabs the agenda.
Along with this white paper there is a new consultation on nuclear power following a High Court challenge by Greenpeace in respect of the earlier Energy Review.
That process was considered to have been inadequate because it did not take sufficient account of the issues of waste and economics.
Together with security of supply and capacity concerns, the other issue of concern is achieving a low carbon source for the UK's baseload electricity needs. Remember that coal and gas still contribute over 70 per cent of electricity generating capacity in Britain.
Mr Darling, in his Commons statement, said new nuclear build was most likely to be on existing sites such as Wylfa on Anglesey. This way there is likely to be less resistance to such major infrastructure projects which have proved controversial in the past.
With the national grid transmission infrastructure and turbines already in place at the Anglesey site, Wylfa B faces fewer hurdles than a new location.
The new fast track approach to planning announced in a recent White Paper will also reduce the lead-time from design to completion. Public inquiries will only be able to challenge a project on local planning issues, such as transport, environmental and socio-economic impact.
So once a strategic national decision is, for example, taken on nuclear energy, no objection could be made to a project on the grounds that it was new nuclear build.
And now both EDF Energy and E.ON have already moved ahead on submitting their pre-licensing applications for reactor designs to the Nuclear Installation Inspectorate.
Representatives from EDF Energy and E.ON have also expressed interest, and visited, the proposed Wylfa B location on Anglesey as a candidate for nuclear build.
Successive opinion polls on the island suggest very strong support in favour of a new nuclear power station on Anglesey. And Anglesey County Council and local politicians are also supportive of the proposed Wylfa B, knowing how vital it would be to the local economy.
So with the UK government anxious to press ahead to tackle the looming energy gap and go for low carbon electricity generation, prospects on Anglesey look bright for a new Wylfa B.
---



Related Articles:
de Rivaz says nuclear will help reduce energy gap
EDF Energy visits Island nuclear plant
No Nuclear Subsidy Needed For New Island Plant
Darling statement brings nuclear build closer
Blair Committee comments boost new plant
Stop Wylfa B on Anglesey, Yes or No?