Nuclear Energy powers Wylfa B closer
Not keeping nuclear energy as a significant contributor to the UK energy mix would add to climate change, according to Vincent de Rivaz, head of French energy giant, EdF.
Nuclear energy would need to be a major player if the UK was not to rely on more coal and gas for the bulk of its electricity generation.
This scenario brings the prospect of Wylfa B, a replacement nuclear power station, on Anglesey a step closer.
With most of the nuclear power plants, which currently provide about 20% of the UK's electricity, soon to be decommissioned, a decision is needed urgently.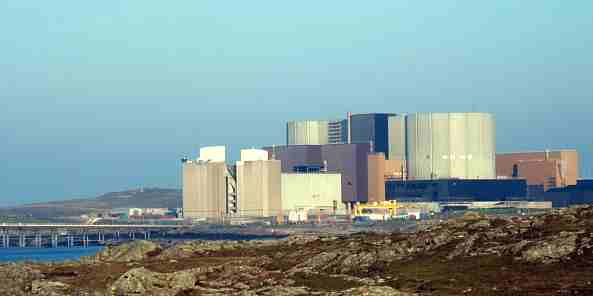 Keep up to date with this and other island stories and articles by subscribing to our free Anglesey Today Newsletter. Just enter your first name and email below. It's as easy as 1-2-3!
According to the BBC, Mr Rivaz warned the all-party Trade and Industry Select Committee in the House of Commons that nuclear power's low carbon emissions made it suitable to narrow the growing energy gap.
These comments come in the wake of numerous warnings from Sir David King, Chief Scientific Officer to the government, about global warming being the biggest threat and challenge facing the world today.
Indeed, Sir David has gone so far as to say that the UK needs to move to a position where nuclear makes up 30% of the energy mix. That's a 50% increase on where we are today.
So what would this mean in actual numbers? Well, basically we will need a further twenty plants.
And as the EdF chief Rivaz said, it would be best to build new plant on existing sites.
The advantages of using established sites was that much of the necessary plant was already present, including the transmission infrastructure.
And local public opinion was more likely to be supportive because of the obvious benefits of job creation.
The other issue that will need to be looked at is pre-licensing agreements and the planning process.
With time pressing for getting to grips with climate change, all parties need to work towards getting a streamlined timetable for providing a steady and predictable baseload supply of low carbon electricity.
Against this backdrop, the propsect of Wylfa seeing the construction of a new generation nuclear power station is growing more likely monthly





Related Articles:
Wylfa B, New Nuclear Build on Anglesey
EDF Energy Visits Island nuclear plant
No Nuclear Subsidy Needed For New Island Plant
Darling statement brings nuclear build closer
Blair Committee comments boost new plant
Stop Wylfa B on Anglesey, Yes or No?
End State Questionnaire



Return to Wylfa Latest News

Return to Anglesey Today from Nuclear Energy