Looking for Dolphins off Anglesey
Would you like to survey dolphins off the Anglesey coast?
This is the question I was asked by my friend, Nia Jones, education officer of Marine Awareness North Wales, based in Bangor, North Wales.
Well, you can guess the answer!
"Dolphins, you said?", I replied. "Yes, that's right, and you'll have to get yourself to Amlwch in half an hour", said Nia.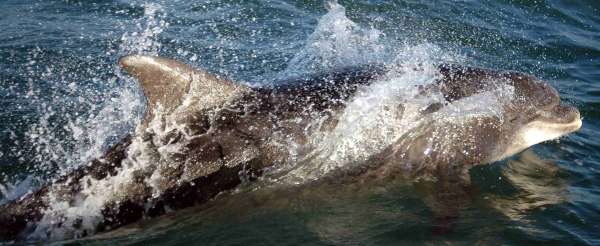 Now YOU can share YOUR Dolphin experience with the world! See below how you can publish your story and see what others have written!

And so, I dropped what I was doing, jumped into my car with my camera and got over to Amlwch Port. The prospect of seeing wild mammals free in their natural habitat off Anglesey seemed too good an opportunity to miss.
It was a cold, crisp, sunny November morning, though the sun was shining and the sea seemed smooth and welcoming.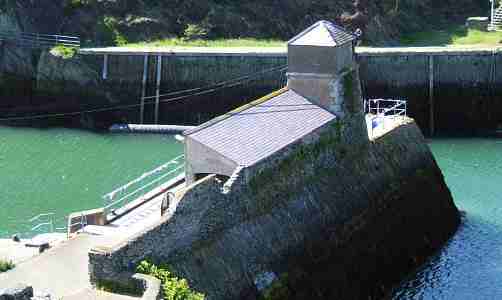 Formed in October 2000, Marine Awareness North Wales is a voluntary organisation dedicated to raising awareness of and promoting marine conservation issues across North Wales.
The education of young people is emphasised with the aim of encouraging them to grow up with a respect for one of nature's most valuable and rewarding environments.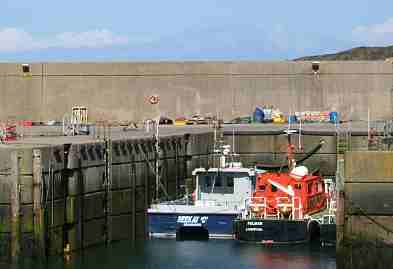 We joined local boat owner Jon Shaw on his modern survey boat, Seekat C. Under a light blue sky with some patches of whispy mackerel cloud, we slipped our mooring and made our way out through the narrow Amlwch harbour entrance, heading for the open sea.
With seven of us onboard, there would be enough "hands" to look out for and record the dolphins. The sea was remarkably smooth as we cruised along the coast easterly towards Point Lynas Lighthouse.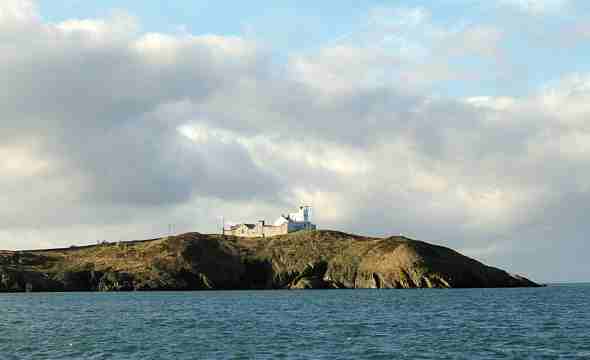 As some of the volunteers scanned the horizon for the dolphins, Nia explained how MANW does twice monthly porpoise surveys. These can either be land-based surveys, where volunteers are trained to scan sections of the coast with powerful binoculars, or a boat survey like today's exercise.
Nia had been told by a volunteer who uses a powerful telescope from the shore that there are dolphins in the area. So she had to move quickly.
A few quick calls to volunteers and to John the boatman and that's the expedition sorted.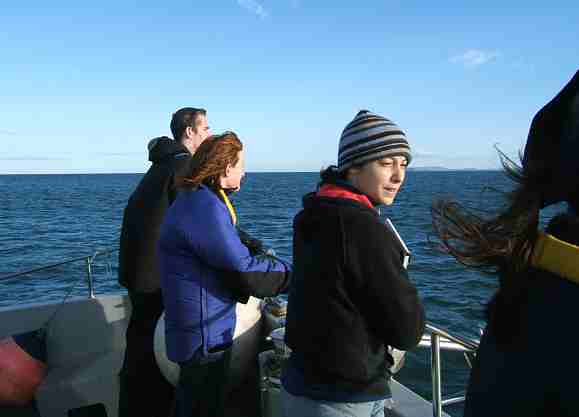 Strict rules have to be observed when approaching marine mammals. This code of conduct reflects the law as set out in the Countryside and Rights of Way Act 2000. Under this Act it is an offence to "recklessly" or "intentionally" disturb marine mammals in UK waters.
Nia and her colleagues at Marine Awareness North Wales have been trained to understand this this Code of Conduct and licensed under the Countryside Council of Wales (CCW) to approach dolphins and porpoises.
We passed Point Lynas, then headed for Dulas and Moelfre. Now 4 miles off the coast, we turned and steamed westwards on a fixed course. Doing this allows the dolphins to make a decision to approach the boat and start "bow riding".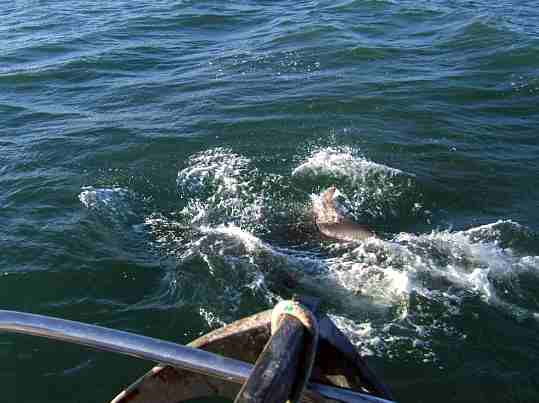 Suddenly, Demmy shouted "Dolphins, over there", pointing to our starboard (right) bow. And yes, there they were, breaking the surface about 1/2 a mile to the North West.
Often if you see seagulls or gannets circling and diving for fish, this is a strong sign that dolphins are nearby, as they are driving the fish to the surface. Hence the interest shown by the seabirds.
John kept a steady course and speed for a few minutes and then as we got closer he accelerated to about 10-12 knots.
Dolphins love to "bow ride" - this is where they swim in parallel just in front of the boat.
Occassionally, they criss-cross either side of the boat's course. It's great to see them about 6 feet below the surface and then suddenly break the surface - and all the time maintaining course.
We spotted some interesting features on some of the them, particularly on the end of the fins. Nia said these are very important indicators of population movement.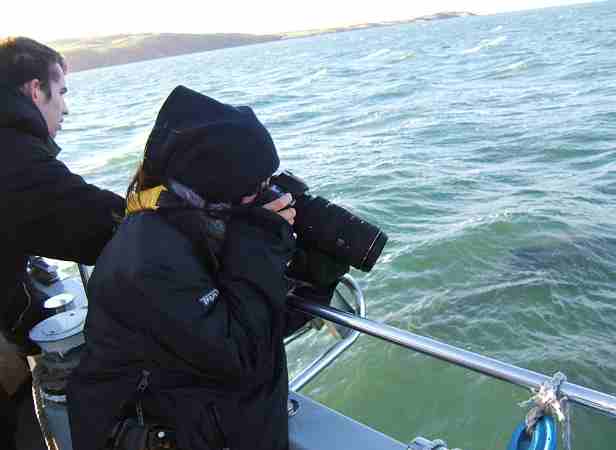 Time went by so quickly as we enjoyed watching the dolphins at close quarters. One rule that we observed strictly is the time limit of 40 minutes for continuous contact with the mammals.
There is a very important role being played here as it contributes to the mapping process for the Biodiversity Action Plan for Wales.
This valuable information is alos fed into the European Factfile Database (Europhlukes). Normally, Nia and Marine Awareness North Wales study porpoises but there is a gap in knowledge about dolphin movements around Anglesey.
Information that is valuable includes population profiles, feeding and bow riding patterns.
And so, what a day! I would thoroughly recommend such a trip for anyone interested in observing mammals in their natural habitat. Doing it this way means you have experts at hand to explain what you see, and you know you are within the law.
For more information about how to get involved with MANW and its activities, contact Nia using the form below.
This is without doubt the best way of seeing dolphins off the coast of Anglesey.

For more information on this important work, write to Marine Awareness North Wales, 376, High Street, Bangor, LL57 1YE.
Alternatively, join our free Anglesey Newsletter so you can keep up with events.


What Other Visitors Have Said
Click below to see contributions from other visitors to this page...