Sandy Beach, Anglesey
Sandy beach -or Porth Tywyn Mawr in Welsh - is a special beach for us. This is because the first time I came to this beach was by sea.
That's right, at the age of 10 I sailed across Holyhead Bay in a small red-sailed Mirror dinghy, landing at Sandy Beach and grateful to touch firm ground again.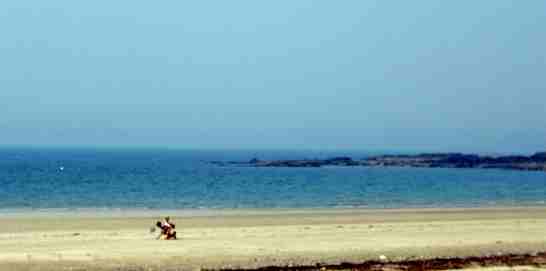 Remarkably, the coastline has changed very little in this time. You can still see the Trinity House navigation buoys that we had to navigate past those years ago.
And the rocks, well, of course, they're still there, barely showing above the surface, and a menace, particularly at high water.
Today, though, I arrived at Sandy Beach the way most of you are likely to do so. And that's by road.
Coming off the A5025, just North of Llanfachraeth village (follow signs to Penrhyn and Sandy Beach) you will experience a leisurely drive along a quiet, winding country lane.
As you look out at the magical coastal view, a riot of colours catch your eye with tall green grasses and bright flowers bordering the narrow tarmac lane.
Rows of wild garlic mixed with yellow and pink wild flowers, and the odd thistle and bramble bush for good measure force their way out over the grassy bank.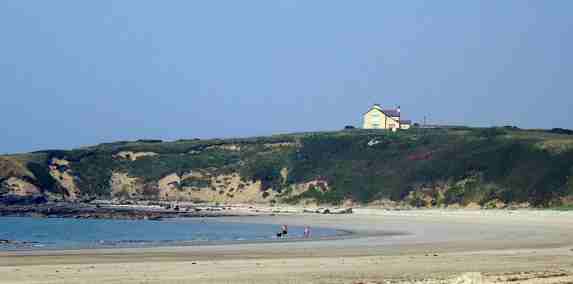 As you continue along this country lane you pass Dronwy Caravan Park on your right and then Llanfwrog Church on your left.
Keep following signs for Sandy Beach and before you know it, you're there.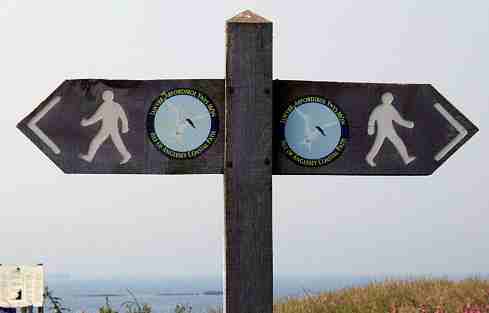 The lane narrows as you approach the beach, but there is a special space which can accommodate about ten cars.
Here you can see the azzure sea to the west, with Holyhead Breakwater, the mountain and port in the distance on your left.
The wild country lane hedges now give way to tall sections of marram grass and mounds of soft, pale yellow sand.
Here to you will cross the recently opened Anglesey Coastal Path which runs along the length of this fine westward facing coastline.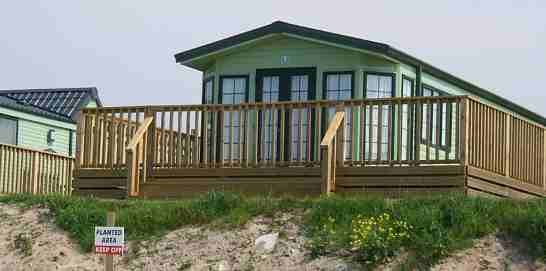 As I came down to the beach it was getting really warm and there was a hazy mist out to sea which made it a little difficult to make out the passing ships.
So, after a drinks break - just bottled water from the local Tesco supermarket - I made my way further onto the beach.
And there it was, the Holyhead lifeboat powering along at over 15 knots towards Carmel Head and a coastal tanker sailing towards South Stack.
Porth Tywyn Mawr is great for launching sailing boats or canoes, though I didn't see any today. That was a pity, such a great day for sailing.
It reminds me of the time we sailed the Mirror (dinghy with red sails) here and dropped an anchor about 50 metres from the shore and swam - yes, swam ashore!
It was well worth it, because lunch was waiting up in the shelter of the marram grass.

Watch Video of this fine beach here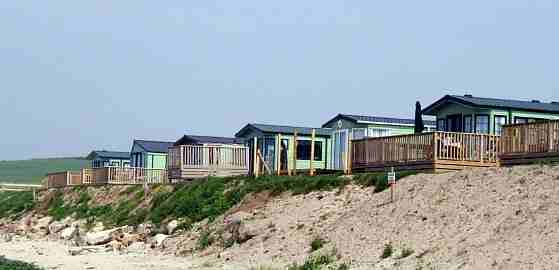 There have been recent developments here. A new line of modern, top of the range static caravans was lining up right along the shoreline and some workmen were building the extensive decking that surrounds the main caravan. They looked impressive.
I do think they're a little close to the shore, especially as we now worry about coastal erosion and climate change.
I decided to take a closer look and then bumped into the park manager. She told me this was the only site in North Wales where caravans can be placed so close to the shore. Something about unconditional planning permission.
You too can grab one of these if you are prepared to spend say £30,000 ($57,000) first on the new caravan, then £20,000 ($37,000) for the site premium. We're not finished yet!
If you pay this £60,000 or so, you have to pay about £1,500 ($2,800) each year for site fees, which she reckons will rise by between 5% and 10%.
What happened to sound monetary policy and low inflation?
Part of the contract is that you can only use the caravan between mid-March and the end of October.
So if you can stump up the cash and are prepared to pay the annual site fees and don't want to go on a nice sunny day in January, then have a closer look.
It is a great location if you like sea views, coastal walks and watersports.


Related Articles:
Benllech Beach
Borthwen Beach
Rhosneigr Beach
Llanddona Beach
Llanddwyn Beach
Aberffraw Beach
Trearddur Bay Beach
Porth Dafarch Beach
Radioactivity Study on Anglesey coast
Island Beaches gain Seaside Awards
Demi Moore Film on Island, Half Light
European Blue Flag Awards