European Blue Flag Awards, Anglesey
The European Blue Flag Scheme, established in 1987, is the most well-known global beach award.
As a result of its success, the scheme has now been rolled out in other regions of the world.
The award is given only to beaches with water that is clean enough to meet the very high standards set by European Law.
In addition, a beach must have good facilities, such as first aid, access for visitors with a disability and lifeguards.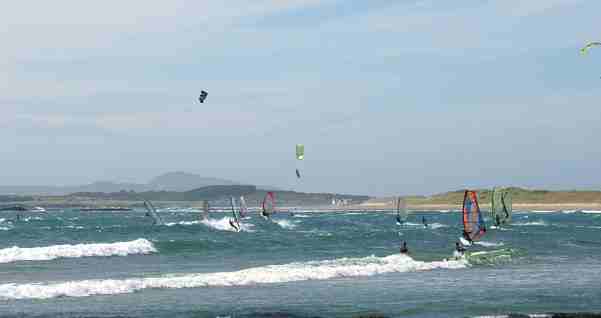 Importantly, a beach which wins this prestigious quality award cannot rest on its laurels.
Regular checks are done and if standards have slipped this highly prized status will be taken away.
Four areas which form the basis of this programme are:
water quality
safety and services
managing the coastal environment
environmental education and information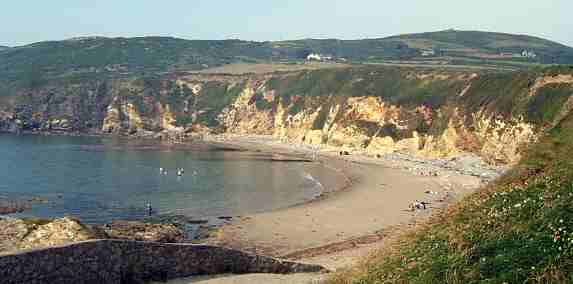 When I walk along one of our Anglesey beaches and spot the Blue Flag, it gives me confidence about the place.
So if some of the family or friends visit the island, I know the facilities and environment will be suitable for them.
I am not surprised when surveys show quite consistently that people believe a clean beach is also a safe one.
This summer I spotted an official raising the Blue Flag on the designated flagpole on Llanddona beach.
You have to get to the beach early to spot this event. Perhaps a morning jog before breakfast!

Other Facts about the Scheme:
The UK Government has placed great emphasis on providing a quality environemnt for bathing. Coastal areas including beaches in England and Wales have received over £0.5 bn (€0.74 bn)($0.93 bn) of investment up to 2005.
Results of tests on bathing water quality must be available to the public. You should be able to access the information either on the beach or by contacting the National Assembly for Wales.
Blue Flag Awards are based on readings of water quality both in the current year of the award and the previous year. So if current year results are down, the beach may well fail to secure the status the following year.
Related Articles:
Borthwen Beach
Sandy Beach, Llanfwrog
Benllech Beach
Rhosneigr Beach
Llanddona Beach
Llanddwyn Beach
Aberffraw Beach
Trearddur Bay Beach
Porth Dafarch Beach
Radioactivity Study on Anglesey coast
Island Beaches gain Seaside Awards
Demi Moore Film on Island, Half Light



Return to Anglesey Beaches
Return to Anglesey Today from European Blue Flag Awards