Anglesey by Bus, Help when Choosing Anglesey Bus Routes
How will you get around Anglesey by bus during your island vacation?
Perhaps you are planning on staying in one location and want to use the bus to visit a beach or local attraction.
There again you might be aiming to walk sections or perhaps even all of the coastal path during your holiday and so the bus service can be very helpful.
But be warned, Anglesey is a very rural and sparse county, so unless you plan properly it can be a difficult place to get around.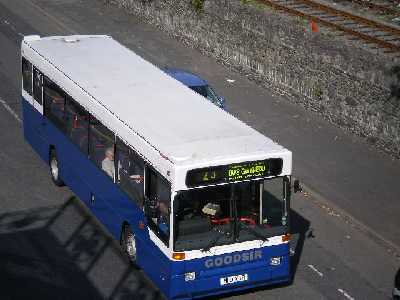 Ask your question about bus routes on the island here
See what other visitors have asked and answers to their questions

There are a number of companies which cover the main Anglesey bus routes, including Goodsir and Lewis y Llan, while Arriva Wales, which also runs the train franchise, is the main service provider.
Generally, the bus service on Anglesey is reduced on Sundays and Bank holidays and so you need to take this into account if you plan on using a bus to pick you up after a long trek around the coastal path, for example.
So let's see, where would you like to go on Anglesey by bus? Here is a map of Anglesey which you may want to refer to when planning your journeys.
I came to Holyhead by train and am staying in a local bed and breakfast. Tell me. How do I get a bus to Trearddur Bay beach?
The main Bus Terminus is on Summer Hill on the one-way system, which is opposite the old market and above Market Street where the pedestrian zone begins.
Number 4 (Arriva) runs roughly every hour Monday to Saturday. Bus stop in Trearddur Bay is at the bottom of the hill. Also take either number 23 (Goodsir) for RAF Valley, or number 25 (O R Jones) for Aberffraw.
I am in Bangor and I want to visit Beaumaris Castle and perhaps then go on to Penmon Priory and Dovecote. Can you help me with my options for seeing Anglesey by bus?
Take bus numbers 53, 57, or 58 (Arriva) Monday to Saturdays from the Bus Terminus near Bangor Clock, across the road and a little up from Marks and Spencer, and the buses run roughly every 20-30 minutes.
Number 57 goes via Bangor Railway station, while 53 and 58 stop at Tesco and Ysbyty Gwynedd (Hospital). You may find the occassional bus goes a different route after Menai Bridge.
From Beaumaris, to get up to Penmon take either the 57 or 58, but it can be hit and miss as some buses go to Penmon but not Llangoed, while some go to both villages as well as Llanfaes.
When you arrive at Penmon village, it can take about 20 minutes or so to walk to the former Augustinian Priory and St Seiriol's Well. If you want to reach Penmon Point and Trwyn Du Lighthouse, you will need to walk further, but the sea views make it well worth the time.
It is best to have an up to date copy of the Anglesey bus timetable with you to be sure, or you could end up at Llanddona Mast, according to the latest timetable! On Sundays, this service from Bangor is curtailed, with only 8 a day (#58).
Get me from Bangor to Aberffraw beach, as I want to enjoy the sand dunes and the beach, this area is amazing.
Take the number 42 (Arriva) Bangor to Llangefni bus which stops at Menai Bridge and Llanfairpwll (the village with the longest name in the world), both on the A5, then to Newborough and Malltraeth, before reaching Aberffraw on the A4080, a journey of about 50 minutes.
Buses run roughly every 1.5 hours Monday to Fridays, and there are only 4 on Sundays.
I am in Holyhead and want to get to Bangor, but I don't want to take the train to Bangor. Can you help?
You just look out for buses number 4, X4 or X9, Mondays to Saturdays.
If you are travelling on a Sunday or Bank Holiday your choice will be limited to only 6 buses, and look out for numbers 44 or 44A, in all cases the buses leave the terminus at Summer Hill, and then stops at Victoria Road opposite the Cenotaph memorial.
The Holyhead Bangor bus takes around 1 hour 25 minutes and always goes through Valley village, mostly through Trearddur Bay and Four Mile Bridge but occasionally direct from Holyhead.
Other stops are Caergeiliog, Bryngwran, Gwalchmai, Llangefni, Gaerwen, Llanfairpwll, Menai Bridge, Bangor railway station and finally Bangor Clock.
These are just a few of the routes you can take to get around Anglesey by bus.
Using the local island bus service is a great way of planning your walks along the Anglesey Coastal path, and there is way of getting a bus for the coastal path section of your choice.
This way you don't need to use two cars at the start and end point of your walk.
We hope the above will help give you an outline some of the ways you can see Anglesey by bus. If you would like to ask about how to get to a place on the island, just ask your question below.