Rugged Trearddur Rhoscolyn Coast, Scenic Anglesey Coastal Walks
When you walk along Trearddur Rhoscolyn coast, leaving behind the main village and holiday home accommodation, you will continue the next leg of your Anglesey Coastal Path journey.
After seeing the Millennium Cross in the sand dunes at Trearddur, head along the road leading up to Ravenspoint.
Next you will see on your right a small cove full of moored dinghies bobbing up and down in the swell, while on the landward side you will catch eye of some character properties as you aim for the headland.
As you go by you will also notice the flagpole of the Trearddur Bay Sailing Club on the rocky outcrop in the bay, and you can take a detour along some narrow grassy paths and then rejoin the road at the sheltered cove of Porth Diana.
Ravenspoint Point Road turns sharply to the left and eventually ends near the entrance to a camping site and caravan park, where you just follow the Anglesey coastal path signpost.
Go along here and then turn right, following a stone wall towards the sea, and then go left along a clearly marked footpath.
As you continue along the Trearddur Rhoscolyn coast, go past a number of static caravans nestled in a sheltered dip in the coastline on your right.
You can rejoin the original public footpath which leads to a bigger caravan park which you by-pass and go through two large stone gateposts.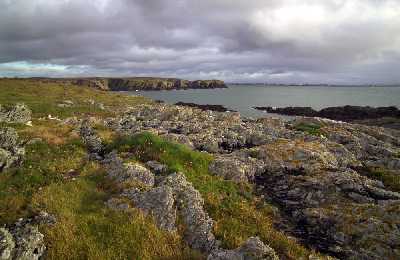 The paths along this section are very well defined and you must to some extent use your sense of direction and awareness of the coastline to know when you are broadly running parallel with the coast.
Continue through fields scattered with yellow gorse and pink heather and you eventually get to a "kissing gate" in the stone wall, after which you will see really special rock formations or arches, which a canoe or two could pass through with ease.
After enjoying the sea view and appreciating these rock formations, you will continue in a south easterly direction, with a high solid, stone wall on your left.
To the right the cliffs are quite close, and you should be careful especially if the ground is wet or there are strong winds, which can make walking particularly challenging.
After you pass the edge of Rhoscolyn Head the coastal path gets very narrow at one point, where care needs to be exercised.
You must get through another gate before making for the high ground ahead, where you will see the appropriately sited coastguard lookout.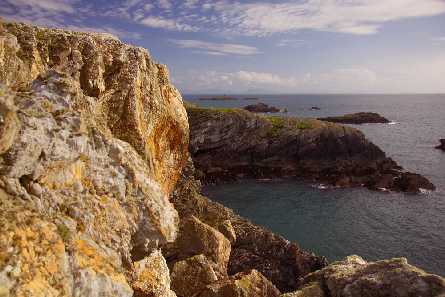 Before you reach the old lookout within about 80 to 120 metres of the gate is St Gwenfaen's Well.
This site was used by pilgrims during the Middle Ages who believed in the water's healing powers, and there are stone steps and seats around the Well.
Above here the old coastguard hut is now disused but do go and stand in front of the building.
You will enjoy breathtaking panoramic views of Snowdonia, Caernarfon Bay, the open Irish Sea and Holyhead Mountain.
On fine summer evenings you may see the Wicklow Mountains in Ireland from here.
Leaving this high ground follow the well defined paths down the grassy slopes which leads to a kissing gate, after which you progress along a walled track coming out behind gardens of some private houses.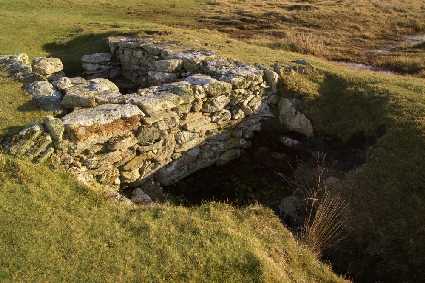 Photos provided courtesy of Paul Mattock, PM Photography

Don't worry, just follow the well marked path and this will lead you down the hill past an old lifeboat house, now converted into a house, and onto Borthwen beach.
You may have some difficulty reaching the car park and toilets which are just behind the beach if the tide is very high.
Key Facts:
Useful Maps: OS Explorer 262 or Landranger 114 Start point: Trearddur Bay SH255 790 End Point: Four Mile Bridge SH 280 783 Distance covered: 8.25 miles (14 kilometres)
See an interactive map of Anglesey here.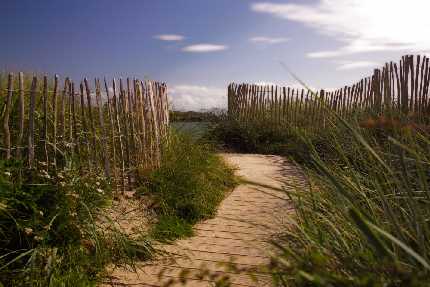 If you want a break from the Trearddur Rhoscolyn coast path, just walk up the winding lane and you will come to the White Eagle pub, where they a fine menu and on a warm, sunny day you can sit outside on the verandah which has great coastal views to the south and east.
Back on the beach at Borthwen, go along the beach and up a concrete ramp where you pick up the footpath inland among the marram grass.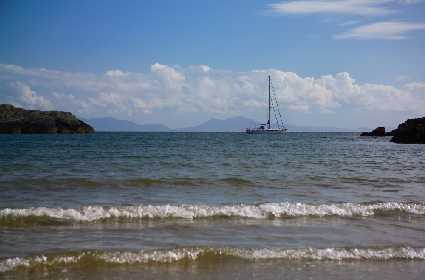 Now as you make progress along the coastal footpath you will have to go over three mini bridges, then cross fields full of wild gorse, after which you join up a path taking you to Silver Bay.
On the beach at Silver Bay continue along until you find a series of wooden steps which lead to extensive woodlands, and you follow the well defined path passing through another farm kissing gate and pass ruined farm outbuildings on your right.
You are now going north-north westerly and away from your original Trearddur Rhoscolyn coast walk, crossing a cattle grid and making your way on the road or alternatively an off-road option available only in spring and summer months.
Now walk along the main Rhoscolyn Four Mile Bridge road and after about half a kilometre turn right to reach Rhyd-y-Bont farm which is well signposted.
You will pass various outbuildings and then the path meanders its way until you arrive in the village of Four Mile Bridge.
This last section of a woodlands, meadows and hedgerows cornucopia around the central part of Rhoscolyn is in sharp contrast to the exposed, wild, rugged cliffs of the Trearddur Rhoscolyn coast. Now you have completed the second leg of the Anglesey Coastal Path, and in total a distance of 33 kilometres from Holyhead.



Related Articles:
Coastal Walk from Holyhead to Trearddur Bay
Cymyran Aberffraw, Enjoy Sand Dunes, Sea and Surf
Aberffraw Newborough, Dunes, Meadows, Woodlands Experience
Pentraeth to Llanddona Beach Walk





Return to Anglesey Coastal Path from Trearddur Rhoscolyn Coast

Return to Anglesey Today from Trearddur Rhoscolyn Coast