Llynnon Mill, Llanddeusant, Anglesey


Llynnon Mill is the only surviving working windmill on Anglesey today. In fact, it is the only example of a working mill in the whole of Wales. You will, however, see a number of old, disused windmills dotted across the island's landscape.

Anglesey was once known as the "Granary of Wales" because our island produced more grain than any other part of Wales. At one time there were at least fifty windmills and watermills on Anglesey.



Click here to add YOUR Story about an Anglesey Windmill
See what other visitors have written about windmills in Wales





With the island naturally exposed to westerly winds, it seemed ideal to use windmills to drive machines for grinding corn, oats and barley. The mill-stones came from the quarries on the eastern side of Anglesey, near Pentraeth and Penmon.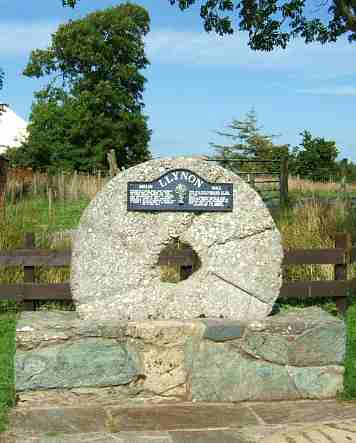 Situated just on the outskirts of the village of Llanddeusant, this windmill is a fine, living example of local industrial archaeology.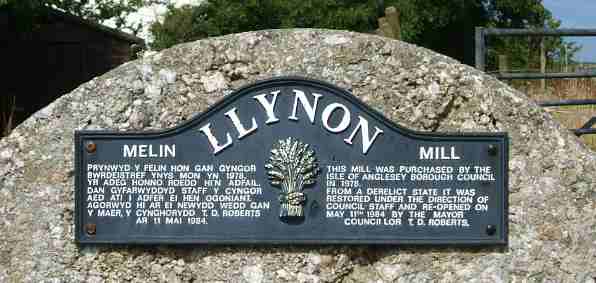 ---
Windmill facts:
Built in 1775 for £550 (€800)(US$1010)
Damaged in a violent storm in 1918 and remained derelict until the Local Council restored the building (1978-86)
You can taste some home made cakes at Llynnon Mill Tea Rooms (with ingredients from...you've guessed it!)
Open Easter to September, between 1100 and 1700, Monday to Sunday
---
Nearby, you can also follow the Mills Trail. Pick up a guide map from the mill or tea room. Just follow the signs from Llynnon Mill and pass the car park.
On your way, about 200 metres from the windmill, you will see the ruins of the local bakery. At one time this site would have been pivotal, linking the flour produced at the mill with the needs of the local community.
You will enter the quiet village of Llanddeusant and will find the path to the fields a little obscure, as it runs past a private property and is hidden by dense tree coverage. This makes it all the more exciting!
Having negotiated some styles and crossed open farmland, you will eventually approach the sole surviving watermill on the island. Howells Mill (or Felin Selar as it is known by locals) was renovated in the mid-1850's, though records suggest there has been a mill here for over 600 years.
This watermill has three huge pairs of grinding stones. Water is diverted from the River Alaw down the mill race and this powers the wheel.



Industrial Archaeology and Power for Today
Though Llynnon Mill still functions, and produces flour, it is to all intents and purposes yesterday's industry. Interestingly, just a few miles away on some high ground is another technology which also uses the elements as its energy source.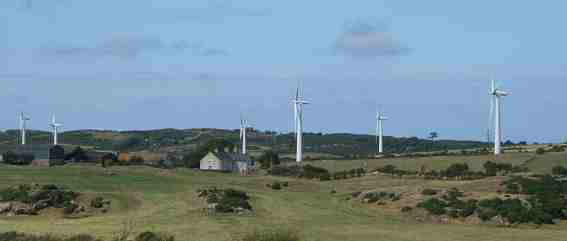 At a time when there is a huge debate on future sources to meet our soaring energy demands and the problem of climate change, it seems wind power offers a small part of the solution.
The Llyn Alaw Wind Farm, one of three on Anglesey, is made up of 33 huge turbines.
Built in 1997, this wind farm contributes to the total output which by some estimates can meet up to 70% of the island's needs.
How interesting that one form of energy is the source of power for two different technologies, designed centuries apart for two significant purposes.
What Other Visitors Have Said
Click below to see contributions from other visitors to this page...

LLynnon Mill Flour Hits China

When I was child, in the 50's and 60's, growing up in Anglesey, I spent many a winter morning in the frosty fields in the Llanddeusant area where my father …
Llynnon Mill Wholemeal Bread Recipe Not rated yet
On my return to Macau from Anglesey I searched for a top recipe so I could bake some wholemeal bread with the flour from Llynnon Mill. After some …
Return to Anglesey Attractions

Return to Anglesey Today from Llynnon Mill