A Quality Holyhead Hotel, Travelodge Offers Comfort and Convenience
You are looking for a quality Holyhead hotel to freshen up and relax after your long drive up the motorway to North Wales or after getting off the train at the Holyhead station.
There again perhaps the weather has caused your ferry to Ireland to be postponed or cancelled. So where do you stay?
The Travelodge Group has opened a new hotel within minutes walk of the port of Holyhead and offers a great launch pad if you plan to visit the interesting attractions and coastal walks on Anglesey.


Click here to share with us YOUR experience of staying at this hotel
See what visitors have to say

Now you will have a real choice of where to stay and crucially at very competitive prices without compromising on quality.
This Travelodge hotel in Holyhead has 54 non-smoking rooms and has generous parking facilities, including spaces for drivers with a disability.
There is also a ramp facility for access to the hotel for those guests using a wheelchair.
Travelodge prides itself on clean and comfortable rooms, all of which include a really comfy bed, a colour TV, coffee and tea making facilities and other beverages options.
And after your long journey you will be really glad to have the use of an en-suite bathroom facility including a bath and shower.
If you need hairdryers or an iron it is best to ask at the reception or to telephone in advance of your visit.
And the Holyhead Travelodge has introduced a range of special deals which allow you to book up to 12 months in advance.
Importantly, the room rates are on the basis of per night not per person.
This Holyhead hotel offers rooms from £19 ($38) per night, £29 ($58), and £39 ($78), depending on when you book.
Standard room rates on the day are £56 ($112).
You can also get 10% off your breakfast order if you book in advance.
Breakfast comes in a special light box, and can include a continental style breakfast with cereal and yogurt-style drink and croissant.
And if you would like to surf the internet, keep up to date with your work or personal messages while away, then you can go online using the Holyhead Travelodge wireless connection.
Remember you need to have a wireless enabled laptop or similar device.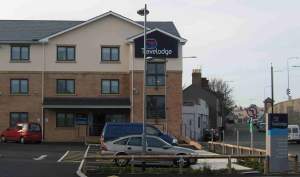 You can make changes or cancel your booking online if unforeseen circumstances arise and you can plan your journey here using the AA route planner online.
For those using a Tom-Tom style navigation aid, the post code of Holyhead Travelodge is LL65 2LB.
When you approach Holyhead along the A55, after passing the Anglesey Aluminium smelter on your right, you ignore the first junction you come to, and carry on until you reach the end of the motorway.
Directly ahead you will see the Netto supermarket logo and then McDonald's on the roundabout.
At this roundabout, you miss the first junction and take the second, past the Holyhead Fire Station on your left.
And about 100 metres ahead of you is the Travelodge Holyhead Hotel, and you cannot mistake it with the familiar logo standing out in the distance.
It is within about 4 minutes walk of Holyhead town centre, and if you get into the town there is a new state of the art pedestrian walk bridge linking to the port and railway terminus.
This gives the visitor a great view of the harbour and you can see the ferry for Ireland berthed nearby.
From your Holyhead hotel base you can plan a trip on the Dublin ferry or visit nearby South Stack Lighthouse or perhaps talk a walk along the Area of Outstanding Natural Beauty at the nearby coastal park near Holyhead Breakwater.
We hope you find your visit to Anglesey an enjoyable one and that you were satisfied with your Holyhead hotel stay.
Below you can share with us your story. We would love to hear your views about your stay.


What Other Visitors Have Said about the Hotel
Click below to see contributions from other visitors to this page...

Lancashire Lass at Holyhead Hotel Not rated yet
We booked this Holyhead hotel for a 2 day break and didn't expect too much for the price, but we were very pleased by the rooms which were of a comfortable …