Fly to Murcia from Anglesey Airport
Now you can fly to Murcia from Anglesey, including a changeover at Cardiff International Airport.
With the opening of Anglesey Airport at RAF Valley, it is now possible to plan to fly to Murcia from Anglesey.
This is a fine opportunity to visit an area rich in history on the Costa Calida of south east Spain.
Murcia, with a greater city region of almost half a million people, nestles in a plain near the Segura and Sangonera rivers. A stay here would give you the best of both worlds.
Surrounded by fine, scenic hills and mountains steeped in ancient monuments and archeological sites, and yet close by the sea and sandy beaches to the east.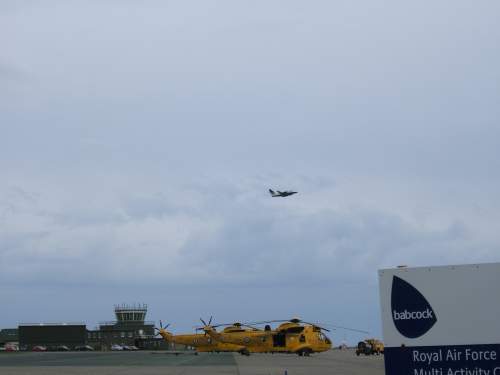 This region has links going back to the Phoenicians and later the Greeks, who traded extensively and established colonies here. In the great days of Carthage, the coastal port of Cartagena was an important hub which led to further settlement inland.
---
Now you can keep up with the latest news and articles by subscribing to our free Anglesey Today Newsletter. Just complete the simple form here. It's as easy as 1-2-3!
---
The Romans also settled here and following the decline of her empire, with the passage of time the Moorish influence eventually took hold.
In the city itself, you could visit the baroque-style museum on sculpture, the Sazillo Museum, after the famous 18th century sculptor.
If you have an interest in wine, the Murcia region has three appellations, namely Yecla, Bullas and Jumilla. The very hot summers, freezing conditions in winter and limestone base are perfect for growing these wines.
And if you're a golf fan, why not head for La Manga Club, or if you want the feel of sand between your toes, get over to beaches such as Puerto de Mazarron, La Puntica and Calabardina.
Perhaps you have friends who have retired and now live in the Murcia area or you are thinking of buying a holiday home in the area.
Scheduled flights to Murcia from Cardiff International Airport are operated by bmibaby.
You can fly to Murcia from Anglesey via Cardiff, the first leg with Highland Airways and the timetable is here.
There are no weekend or Bank Holiday flights for the time being, but this is under review and there is capacity for up to 10 daily flights from Anglesey.
To do the whole journey to Murcia in one day you would catch the 0855 from Anglesey to Cardiff on a Tuesday or Thursday, arriving at around 1000.
Then you have time before you transfer for the bmibaby scheduled flight to Murcia leaving at 1630 on Tuesdays and Thursdays.
Alternatively, you could leave Anglesey Airport on the 1740 flight on Monday or Wednesday and stay overnight with family or friends or in hotel or guesthouse accommodation in or near Cardiff International Airport.
Then on Tuesday or Thursday morning take a short trip into Cardiff by train or coach before returning in time for the 1630 flight to Aeropuerto de Murcia-San Javier.
Remember this airport is about 30 miles south-east of the city of Murcia, so you may need to hire a car in Murcia or secure an alternative shuttle service.
So now you have the opportunity to step on the Highland Airways plane at Anglesey Airport and step off the bmibaby jet at Murcia-San Javier Airport in Costa Calida, Spain.
There are alternative routes to Murcia from Anglesey if going to Cardiff is not part of your plan, and we shall consider these options here.
We hope you take the opportunity to explore some great European destinations over the coming months. Why not start today with your plan to fly to Murcia from Anglesey.





Related Articles:
Plans for Anglesey Seaplanes, AirSea Lines
Flights to Malaga from Anglesey
Flights from Cardiff Airport to Anglesey
Possible Flights from Anglesey to Dublin
Anglesey Cardiff flight
Book your Holyhead Car Rental, Meet and Greet at Airport



Return to Anglesey Airport from Fly to Murcia from Anglesey

Anglesey Today