Anglesey Tidal Energy, Clean Energy from the Tides
Anglesey tidal energy could provide a significant boost to the domestic electricity needs of the island, if studies by a marine energy company produce the right results.
Tidal energy is a clean, renewable form of energy and is guaranteed because of the predictable movement of tides around our coast.
Bristol-based Marine Current Turbines (MCT) has received a grant of £700,000 from the Welsh Assembly Government under EU Objective One to carry out the feasability study.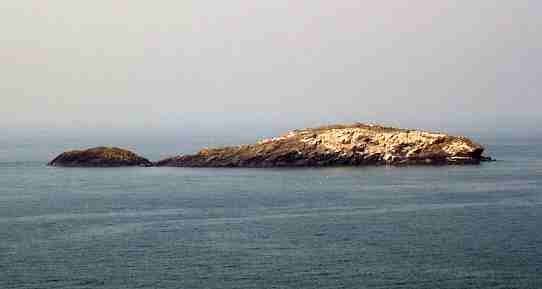 Strong tides at Middle Mouse, near Skerries Rock
Paul Taylor, a spokesman for MCT, said that there is "significant potential to use the tidal power off Anglesey" to generate electricity for up to 6,500 homes on the island.
We know from our experience of sailing along this coastline how valuable the tides can be as a source of energy, having often sailed from Holyhead to Middle Mouse, off Amlwch which involved sailing the tidal waters between the Skerries rock and Carmel Head.


Sailing at about 4 knots normally, we would accelerate to about 7 or 8 knots "over the land" as we navigated through the tidal Langdon ridge. This was, of course, taking the advantage of the "flood" tide, while on the return we would hope to catch the "ebb".
Returning from Middle Mouse and passing Wylfa Power Station and Cemlyn, and then on to West Mouse, we would soon see whether we were in "slack tide" or benefiting from the ebb.
The Trinity House navigational buoys, marked Archdeacon and Ethel Rock, literally roll violently, so strong is the current along this stretch, just East of Skerries Lighthouse.
We have also sailed past
South Stack Lighthouse
on many occassions and again felt the surge of the tide or if unlucky, found our progress almost stalled because we were "punching" the tide.
Scoping studies carried out by MCT are looking at two locations where Anglesey tidal energy can be captured; in the waters off South Stack, about 2 to 3 km to the West, and between Carmel Head and the Skerries.
The 7 unit underwater tidal farm envisaged by MCT is tremendously exciting technology and, if it does get approval and sufficient funding, could be operating in three years time.
Obviously, an environmental impact assessment (EIA) will be carried when the scoping study is completed.
The apparent benefit of the underwater Seagen turbines is that they can harness the tidal energy without impacting on the wider environment.
And as a renewable, predictable and low carbon form of energy, using the tides to generate energy reduces greenhouse gas emissions.
So if everything goes to plan we could see Anglesey tidal energy powering a section of our island's future electricity needs.