Discover Your Holyhead Cruise Destination
A Holyhead cruise visit is becoming ever more popular with major cruise lines which offer cruising holidays around the waters of the UK and Ireland.

Holyhead on Anglesey is a major UK passenger ferry port to Ireland and has excellent port facilities for large cruise ships looking to offer their passengers exciting and interesting places to visit.
On arrival at Holyhead, cruise ships have normally anchored in the sheltered anchorage facilities north east of Holyhead Breakwater, and the Anglesey Aluminium jetty. A harbour tug can be made available if required from the local boatyard.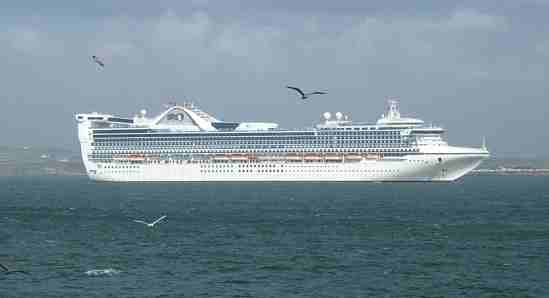 The breakwater attraction at Holyhead is a famous Grade 2 listed building, has a rich history and draws a lot of visitors and sea fishing enthusiasts from afar.
This location is ideal for cruise liners over 250 metres in length as the prevailing winds are from the south west, and it is in the lee of the town and harbour.
By ship's tender it is less than a mile from this Holyhead cruise anchorage to the Fish Dock landing on the east side of the inner harbour, where coaches can take guests to the various attractions across the island and further afield.
You may have seen some of the breathtaking Cambrian coastal scenery if your cruise ship sailed from Milford Haven or Swansea in South West Wales.
And as you approached Anglesey you will have seen the island's sandy beaches sweeping from Llanddwyn in the south, where Demi Moore filmed Half Light movie shots, to Trearddur Bay in the west.
North of here is the iconic South Stack Lighthouse, which you can visit during your stop over at Holyhead.
A number of Holyhead ferries sail to Dublin, the Irish capital and to Dun Laoghaire.
The port of Holyhead now hosts some of the largest cruise ships in Europe, with cruise lines such as Noble Caledonia, Oceana Cruises and Holland America visiting with increasing frequency.
They are attracted by the rich and diverse historical and natural attractions for their passengers.
The largest cruise ship to visit Holyhead so far is the 48,000 tonne Seven Seas Voyager, which can carry up to 750 passengers.
With a view to attract more cruise liners to Holyhead, there are plans to use the Anglesey Aluminium jetty as a suitable docking facility for ever larger cruise ships which would normally sail only to Dublin and Liverpool.

The island aims to be able to facilitate vessels of around 85,000 tonnes and so using this jetty would be a great boost.
Estimates suggest that around £7 million of investment may be needed to Holyhead port facilities, of which up to £500,000 would go to upgrading this berthing facility.
When we consider that there are as many as 70 cruise liners operating in Northern European waters, it is clear that with the extra investment in port infrastructure going forward, a Holyhead cruise destination will become a growing possibility for many keen cruise passengers.
An initiative called "Celtic Wave" led by Anglesey which brings together key ports in Wales and Ireland, namely Holyhead, Swansea, Milford Haven, Cork, Waterford and Dublin, and backed by £1.2 million aims to attract more cruise line visitors to the Irish Sea ports.
You may wish to visit the historic castles of Wales at Beaumaris and Caernarfon, which are designated UN World Heritage sites.
Alternatively, you may want to visit the last working mill in Wales at Llynnon, Llanddeusant or walk some of the Anglesey coastal path or visit the National Trust house and gardens at Plas Newydd.
Whatever option you choose, you can be sure that more cruise liners will be looking to make the Holyhead cruise destination over the coming years.