Your Fishing Charter, Seekat C
Are you looking for a quality fishing charter off the Anglesey coast?
Jon Shaw is an experienced local skipper and he offers fishing charter opportunities aboard his modern, fully insured boat, Seekat C.
Whether you want a private, small group, fishing trip or a commercial charter, Jon has the state-of-the-art boat to meet your needs.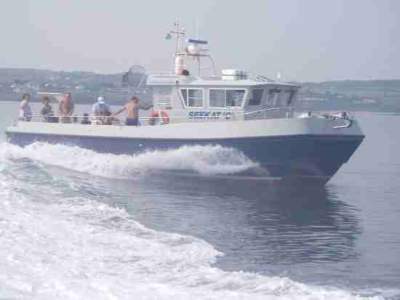 We recently enjoyed a trip aboard Seekat C with Jon and others, observing dolphin movements off the North Anglesey coast.
It was great to watch marine life and appreciate the beautiful unspoilt coastline.
With a fresh breeze in your face and a mug of hot chocolate warming the hands, the 10 m long seekat C glided along the waves of the autumnal Irish Sea.
These are the moments when you appreciate the sense of freedom that comes from the vast sea.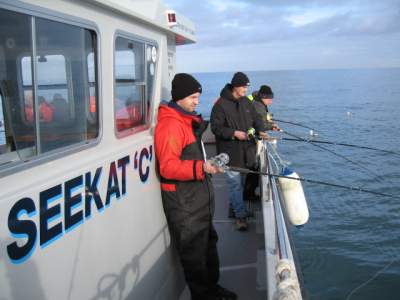 Do you want to fish near the coast at Dulas or Lligwy or perhaps further south towards Puffin Island and Trwyn Du lighthouse off Penmon Point?
If you are keen to fish for pollock, cod, coalfish and conger over the numerous ship wreck sites along this Anglesey coast, then Seekat C is your ideal vessel.
And you can go fishing for bass in season on one of the many midweek trips offered by Jon aboard his boat.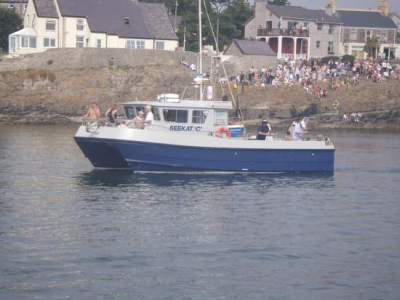 Jon has the local knowledge to spot the best places to fish for tope, huss, whiting and mackerel on your fishing charter.
And if you don't have a fishing rod, you can use those provided on the boat.
You get the sense that Jon is very professional in his approach to navigating his boat and making sure everyone has a safe and enjoyable experience.
So I wasn't surprised to find out that he also works with the Mersey Dock Pilots, who have to navigate safely those huge ships you see on the horizon bound for Liverpool.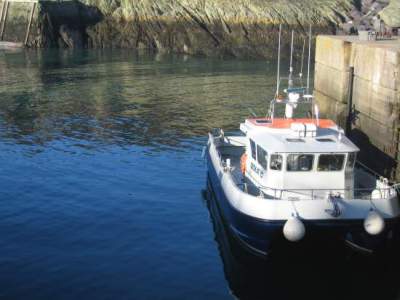 Jon is very clued up on the latest navigational techniques aboard his 280 HP Turbo Diesel engine powered Seekat C, which has a 60 mile COP, and the boat has space enough for up to 10 anglers in all conditions.
So on your fishing charter, if you have to go through the strong tidal waters of Langdon Ridge between the Skerries Lighthouse and Carmel Head, you know with this boat that you have the power to get through to Holyhead Bay.
If you prefer a sightseeing charter, Jon can accommodate a party of up to 10.
Perhaps, like us, you would like to watch seals, porpoises and dolphins off Lligwy, South Stack or further down the South Anglesey coast towards the Caernarfon bar.
There again, you may want to enjoy a cruise down the Menai Straits, from Puffin Island all the way down to Caernarfon.
To find out more, contact Jon by completing the form below.
To keep up to date with what's happening on Anglesey you can now subscribe to our free Anglesey Today Newsletter. Just complete the simple boxes below.