Benllech Anglesey, Your Guide to Local Services
You may be planning on staying at Benllech Anglesey for your island vacation, whether summer or winter.
Perhaps you want to walk the beautiful coastal path nearby or visit Benllech beach as well as attractions.
To make your stay at this fine coastal resort more enjoyable, here is some information on a range of shops, restaurants and facilities you may need.


Firstly, Benllech Anglesey is situated along the eastern side of the island, with the A5025 trunk road intersecting the village as it runs from Llanfairpwll, near the Menai Straits to Valley in the west, via Amlwch in the north.
The crossroads in the centre of the village sees the Llangefni road meet the A5025 and opposite is a small road running down to Benllech beach.
Ask your question or share your story about Benllech here
Read what others have said here
Here is a map of Anglesey which you can use to zoom in on the village
Clustered around the crossroads are the following services:
Texaco Petrol Station, where you can make sure you keep your petrol or diesel tank topped up. As well as providing this service for road vehicles, there is also a Cost Cutter convenience store attached to the petrol station.
This store acts as the local supermarket and Post Office, with a wide range of food, drinks, snacks, alcohol, stationery and a delicatessen. If you need household cleaning materials for your self-catering cottage or flat, this shop should be able to accommodate.
As well as personal hygiene products and newspapers, you can also get gas cylinders, maps and fresh fruit and vegetables here.
Across the road from this mini supermarket is Jacqueline Bradley, a bed, furnishings, lamps and gifts store, situated right on the junction.
Either side of the B5108 Llangefni road which rises from Benllech Anglesey at this crossroads are two fast food outlets, the Bengal Tiger Takeaway and The Golden Fry fish and chips cafe.
On the seaward side of the main A5025 Bangor Road and opposite the Texaco petrol station is a small shop called Roxi's Plaice, selling quality fresh seafood, according to the sign, including cockles and mussels, prawns and crab sticks.
Adjacent to Roxi's Plaice there are public toilets and behind these a bowling green, popular with the locals, and a fenced tennis court.
Below here is a very large car park which is free, and holds about 50-60 cars. On the left of the car park as you look up towards the Square is another fish and chips shop, called The Jolly Fryer.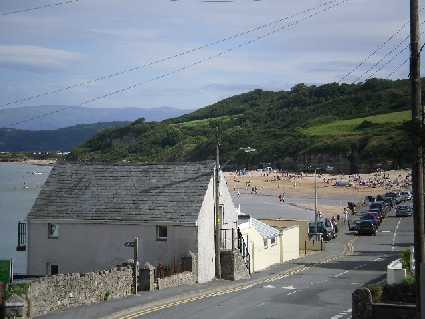 From here, as you walk out of the car park you will see The Benllech pub, which serves bar meals and has Sky and Setanta sports on a large TV, and children are allowed until 9 pm.
If you want to get to Benllech beach, just walk out of the car park and turn left down the hill, and after walking about 400-500 yards you will reach the beach.
There is a public telephone outside The Benllech pub, just in case your mobile isn't working or the batteries have run low. As you walk down to the beach you will pass the entrance to The Golden Sunset caravan park, which has spectacular sea and coastal views.
This caravan park prides itself on being family friendly and is home to over 280 private caravans and chalets, and is one of many caravan parks around Benllech.
Along Bangor Road on the left as you walk south from the Square is The Talent House, a Peking and Cantonese Restaurant. Here also is Latham's Tackle and Bait shop, where you can get tools, barbecue equipment, gas cylinders and other accessories for fishing , caravans or camping.
Next door is a small fresh fruit and vegetable shop also selling fresh eggs, open 9 am to 4 pm Monday to Saturday (except Thursday when they close at 1 pm).
Across the road from these shops is a branch of HSBC set back on a small row of elevated terraced houses and there is a small ATM cash point in the wall outside.
The local Benllech Anglesey surgery is Gerafon (LL74 8TF) and this is situated off Beach Road, open Mondays to Fridays, 9 am to 1130 am and 4 pm until 6 pm. The surgery has seven doctors, three practice nurses, a midwife and four health visitors.
Call the surgery on (01248) 852122 for an appointment. For out of hours needs, call (0845) 8501362.
Rowlands Pharmacy is just off Bangor Road on the left as you go south and a little further along from The Talent House restaurant.
If you are staying at a self-catering holiday home and don't want to use the washing machine, you can pop along to Y Ty Golchi at 6, Bryn Siriol Precinct (LL74 8TE), which is on the right of Bangor Road, opposite the Pharmacy.
You will also find a hairdresser and newsagents at this small shopping precinct which has parking spaces.
Interesting facts and local societies:
Just outside the Texaco Petrol station in the Square is Benllech War Memorial, dedicated to the brave men of the local area who died in the World War.
If you are interested in flowers, there is Benllech Flower Club which has regular meetings at the Memorial Hall.
We hope you have found this information on Benllech Anglesey useful and that it will help to make your stay on the island more enjoyable. If you have a question or want to share your experience please share with us by using the form below.