Tyn Llan Holiday Cottage
Make the most of your Anglesey holiday and stay at Tyn Llan Cottage, next to Llanbadrig Church, near Cemaes.
This is where Demi Moore and her crew had a free house while she filmed some of her latest film, Half Light.
You will be very close to the Anglesey Coastal path and the famous Llanbadrig Church if you choose to stay at Tyn Llan.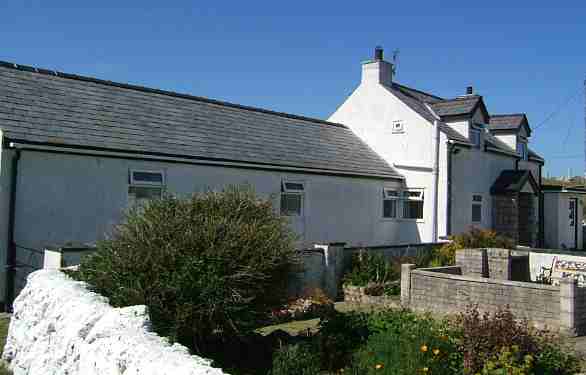 Tyn Llan is owned by Steve and Jill Cheetham who have transformed what was an old farmhouse into a tastefully decorated and comfortable location for anyone wanting to spend time discovering Anglesey.
Whenever I visit this North West corner of the island it always strikes me as being a tranquil, coastal location with beautiful views across the North coast of Anglesey.
Just a short step outside the cottage and you are at the National Trust gate which leads onto the recently opened Anglesey Coastal Path. The day I visited Steve and Jill I tried some of this path, walking easterly towards Amlwch; it was spectacular, an undulating path with grassy banks and wild flowers rioting down towards the cliff edge, which is close in some places.

WHITE LADY BAY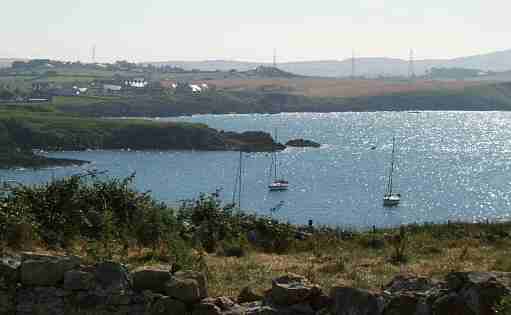 VIEW FROM HEN STABL (OLD STABLE)


Nearby is the rocky island called Middle Mouse - because it is in between West Mouse and East Mouse - and you can see how strong the tides are by the effect they have on passing boats!
The farmhouse, a former verger's smallholding, was rebuilt in 1812 and has 4 bedrooms ( 2 upstairs and 2 downstairs) - with enough room for up to 8 people. There is also a lounge/ diner, an utility room and large farmhouse kitchen.
You will also have the use of a downstairs bathroom, toilet, gardens and a space for parking your car. The property has oil fired central heating and uPVC double glazing.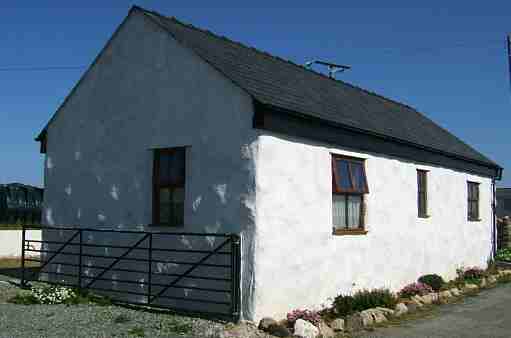 There is another accommodation on the grounds, called "Hen Stabl", which is a converted stable with 1 double bedroom, a crofg loft (1-bed) and a sofa bed in the lounge. Other facilties include a bathroom, shower, TV,DVD, Video, oil central heating and uPVC double glazing, together with an outside Laundry Room.
---
Demi Moore and Half Light
Steve says they first found about the filming operation back in May 2004. They had been approached about using the facilities but had no idea who were the leading stars in the movie.
Then in September things moved quickly. Accommodation wagons and equipment arrived and just before the arrival of the film crew, Steve and Gill found out that Demi Moore was playing the lead role.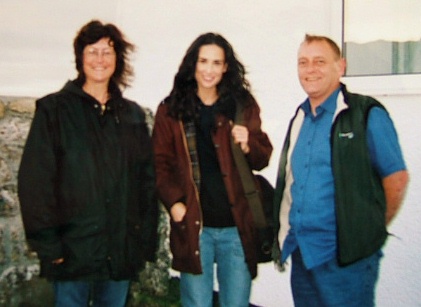 When the day for filming arrived, as Steve recalls, it was mayhem. They had been waiting months for the mains electricity supply to be connected, and then, amazingly, the engineers turn up on the same day as the film crew.
As this is only a quiet corner of coastline, reached by a narrow country lane, you can imagine the hullabaloo! Huge trailers, caravans and 4 by 4's crammed into the nearby car park, the chef feeding the whole crew and setting up a gazebo, which then had to be taken down because of the wind!
Steve remembers a number of funny incidents, like for example, when the engineers started to drill in Hen Stabl, they were asked to stop, because it was affecting the filming.
So a job that would normally take a couple of hours, in fact, took all day.
Then there was the numerous attempts by the paparazzi to cross the adjoining fields and get a closer view of Demi Moore. On each occassion they were stopped by the security guards.
There are a number of other stories that Steve and Gill told me, but I can't tell you them all now.
The best way for you to find out more is to plan a visit to with Anglesey and contact Steve and Gill to see of you can stay at either Hen Stabl or Ty'n Llan.
They'll also tell you what Demi said to them at the end of filming in Llanbadrig Church.


---
Return to Demi Mooe, Half Light UK Premiere
Return to Accommodation from Tyn Llan Cottage
Anglesey Today