Saint Eilian Church, Llaneilian, Anglesey
Among the many old and interesting Anglesey churches, Saint Eilian at Llaneilian must be one of my favourites.
The square limewashed tower with its pyramid roof and weather vane catches your attention from the road to Point Lynas.
"Is it a church?" a stranger might ask.
Yes.
Go through the gate in the iron railings that circle the churchyard at Saint Eilian and you will find the traditional stone ave abutting the tower.
And another curiosity, a strange little building attached to the far corner of the church by what looks like part of a round tower.
It is one of those places you just have to go inside and explore.
St Eilian came to Anglesey from Rome in the 6th Century. Close to where he landed, at Porth Yr Ychen, he founded his oratory and it is on this site that the original church was built.
The square tower is all that now remains of this 12th century building.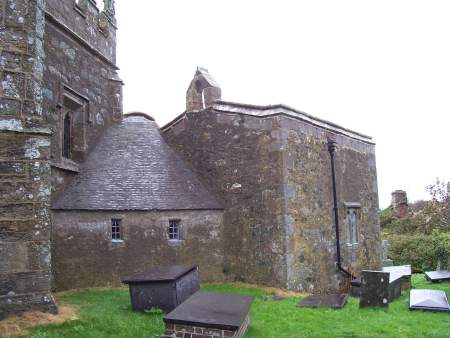 The nave and chancel are mediaeval, dating from the late 15th to early 16th centuries. Entering the nave through the South porch is to step back into another time.
In a church famous for its fine wood carving the fabulously complex rood screen dominates the interior. In the centre of the screen a painted skeleton reminds worshippers of the transience of life.
It is thought to be one of a series of painted panels that formed the base of the galleried screen. But why does this one gruesome panel remain in such good condition when all the others have faded to blank wood?
At the back of the nave stands an oak money chest dated 1667. At some point in its existence it has been plastered to the wall. Certainly this means that it cannot be stolen but it also makes it impossible to lift the lid.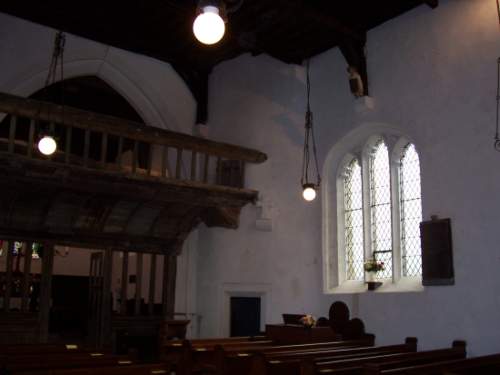 What is inside it? No one knows.
You can also find a pair or rare 18th century dog tongs used for the removal of inattentive worshippers - of the canine variety. At that time it was quite normal for people to bring their dogs to church with them.
The tongs are so heavy and unwieldy the handler must have needed super-human strength to use them on a large uncooperative dog.
But possibly the most fascinating part of Saint Eilian church, easily missed by visitors, can be found by following a small curved passage from the chancel. This is the part that looks like a round tower from outside and it leads to a small stone chapel - St Eilian's Chapel.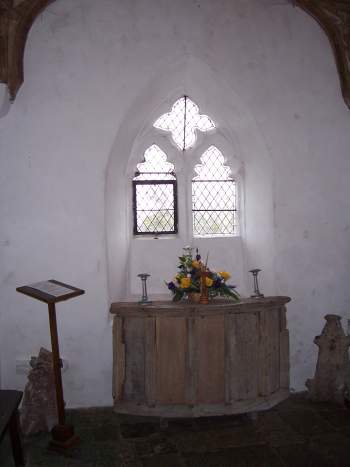 This was built in the 14th century and joined to the main church in 1614.
Here you can marvel at original mediaeval joinery, not a single nail, only wooden pegs. You can read the story of David Pugh, late of this parish, whose mortal remains lie beneath your feet.
And you can find Victorian graffiti. On an old door some anonymous hand has scratched sketches of sailing ships which have been identified as the type that would have been seen around our shores at that time.
The small wooden altar was never intended for that purpose. Holes in the top show that at one time it was probably part of a cupboard. How did it become an altar? Who knows.
But a legend says that good fortune will reward anyone who can climb in through one panel and out through another without touching the sides. From the size of the panels I would guess that only an angel could do it.
A Grade One listed building, Saint Eilian's church is one of the best preserved mediaeval churches on the island. In 2002 it was awarded a £170,000 restoration grant.
Saint Eilian's church is open May-September 10am-4pm At other times by prior arrangement.
This article is written by Kay Middlemiss

---