Rod Pace, Moelfre Lifeboat Man Who Worked with Demi Moore
Rod Pace, in common with the majority of lifeboat crew, has spent his time with the Moelfre RNLI Lifeboat as a volunteer.
On call at a moment's notice and frequently leaving his family home to face unknown situations and treacherous waters, he joined Moelfre RNLI Lifeboat in 1978 as a crewman.
In the late 1990's he was promoted to second Coxswain and continued in that role until he had to retire as sea-going staff at 55.

Rob Pace then took over the role as Lifeboat Operations Manager, a position which he has held for the past 3 years.
Sea-going is clearly part of his psyche and for as long as he can remember it has played a large part in his life.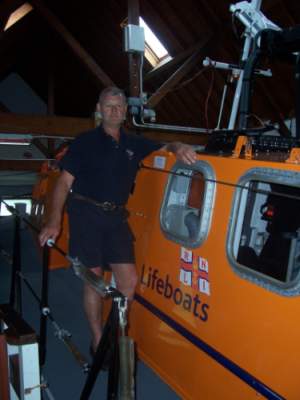 Born and bred in Liverpool, Rod Pace had a strong association with Liverpool Sailing Club as a youngster.
His first rescue in 1963 was when the RNLI inshore scheme was in operation, whereby private boat owners utilised their craft on rescues.
As a boat owner, he was called to rescue some people off a sand bank in the River Mersey and was paid by the RNLI for his efforts.
Two years later he became a cadet on HMS Conway and went away to sea in 1967, working for the Blue Funnel Line as a midshipman.
He moved to Anglesey in 1972 and in 1978 joined Moelfre RNLI Lifeboat whilst spending several months of the year working for the off-shore industry in the North Sea, employed by Shell Tankers.
He has since worked for different companies all around the world.


---
When he watches the crew launch from the slipway on a "shout", he admits to "longing to be out there" with the rest of the crew and feels somewhat cheated out of a few years extra service.
He had no option but to retire at 55, although now current lifeboat regulations decree that crew are allowed to continue until 60 based on a satisfactory medical.
When asked about the driving force behind putting himself into potentially dangerous situations and leaving the security of his family home, he talks about the pleasure he has always derived from sailing as a pastime and his belief that he is "giving something back".
This combined with the tremendous satisfaction in bringing casualties to safety and seeing them reunited with their families gives him the adrenalin surge needed when the "bleep" goes off.
In recognition of his efforts, Rod has been awarded 3 framed Letters of Thanks and a Vellum award from the RNLI.
On one occasion both himself and crew member David Massey sustained broken limbs whilst rescuing two people and saving the catamaran Alleycat, which was lying inside the surf line and in danger of being driven onto rocks at Traeth Bychan in 1995.
His Vellum award was in recognition of his outstanding courage and subsequent excellent seamanship in getting aboard the disabled yacht Annarchy in storm force conditions in June 2002.
In spite of violent seas and working in the pitch-dark, Rod, on the Coxswain's 6th attempt to manoeuvre the lifeboat close enough to the stricken vessel, jumped across onto the yacht, secured a tow line, brought the yacht under control and back to safety in Moelfre. Five crew members onboard the Annarchy were saved.
His paid employment is for Sea Training based in Port Dinorwic and as a result of that work his recent "claim to fame" was working along-side Demi Moore on the film Half Light.
Rod Pace spent 6 weeks on Llanddwyn Island accompanying Demi whilst shooting the various boat scenes contained in the film and providing safety backup whilst she was filmed.
Although not appearing in "the flesh" his name features in the credits as "boat driver"!
Rod Pace is one of a sizeable lifeboat crew at Moelfre whose expertise has proved invaluable in life-saving and rescue operations in the sometimes treacherous and well used waters surrounding Anglesey.
Future editions will feature the work of other crew members who, like Rod Pace, all have their own unique role to play in the operation of Moelfre RNLI Lifeboat's busy station.








Return to Anglesey Informer from Rod Pace