My Anglesey Coastal Walk May 2010
by Neil Holmes
(Liverpool)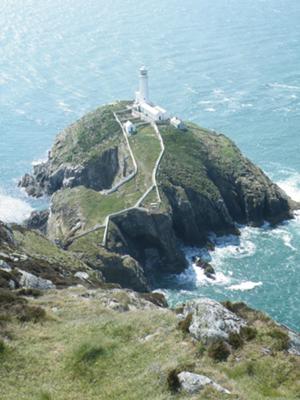 South Stack Lighthouse
I visited the island of Anglesey for a short weekend break in November 2009 and bought a copy of the guidebook as I was interested in long distance hikes.


I picked May as I knew the weather would be fairly dry and sunny but not too hot. I took 7 days to cover the entire 125 miles, camping on 5 nights and staying at a B&B on the other.
What an amazing time I experienced, and I had to overcome a lot of obstacles along the way. On the first day I slipped on a footbridge and fell into a stream, soaking me through and damaging the LCD screen on my camera.
However, I managed to dry it out enough so that it would work through the viewfinder, but eventually had to buy a new one.
I also lost my guidebook as it was soaked through, meaning I had to rely on the O/S maps I had brought with me. These were excellent as always and mark the Path out clearly, but lack the additional information the guidebook provides.
By day three I had decided to get a new copy of the guidebook so took a train from Rhosneigr to Llanfairpwll (I was walking anti-clockwise).
Unfortunately I arrived too early for the tourist information so had to wait 30 minutes. When they opened I found that there was a new 2010 version of the guidebook due out in July, and the old copies were sent back already, so I'd wasted a journey.
Returning to Llanfairpwll station (the famous station with the very long name) I found that I had another 75 minutes to wait for a train back to Rhosneigr.
I almost gave up at that point, but was determined to complete the walk. I ended up walking part of the route in reverse but still managed to completed the full circuit.
It has to be said, it's a testament to the variety and beauty of the island that I ended up thoroughly enjoying the trip.
The Coastal Path is not easy, and if I was doing it again I would take at least 8 days next time.
There's plenty of good campsites along the route and some amazing sites that you probably wouldn't see if you were in a car.
Highlights for me included the amazing
coastline around Holy Island
, Newborough Forest with its red squirrels and passing under the
bridges on the Menai Strait
.
For more local articles and stories, subscribe to our free
Anglesey Newsletter
here. It's as easy as 1-2-3!