Moelfre Lifeboat Incidents: Rescuing Those In Need
You can follow the most recent Moelfre Lifeboat Incidents by returning to this page.
With a long and distinguished history of service to the maritime community, the Moelfre Lifeboat and its crew has rightly earned a reputation for its dedication and courage in rescuing mariners in difficulty off the Anglesey coast.
We hope you enjoy reading these updated accounts.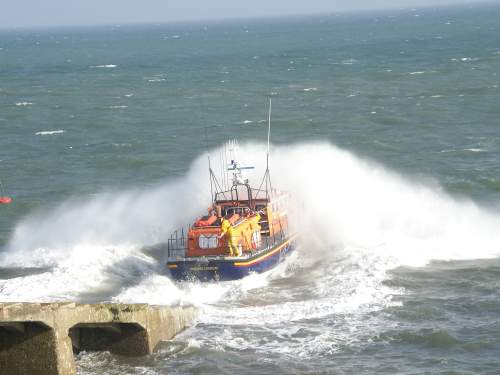 ---
---
23rd May 2007
Moelfre RNLI Lifeboat was tasked to a vessel off Point Lynas putting out a May Day call over the VHF radio, reporting they had broken down.
A Local fishing vessel from Amlwch, which was close to the casualty, managed to tow them back in to Llaneilian.
The Lifeboat crew was assembled, but stood down just before launching.
7th June 2007
Moelfre RNLI Lifeboat was tasked to a report of an EPIRB found by a local fishing vessel along with some fishing floats.
There was a phone number on one of the floats, so the Coastguard phoned this number to see if they could get any more information.
It turned out to belong to the RAF in Valley, who had been using it for an exercise. They had lost the equipment but did not inform the Coastguard.
The Lifeboat crew were assembled, but stood down just before launching.
17th June 2007
Moelfre RNLI Inshore Lifeboat launched to a report of a person having a fit and falling in to the sea at Red Wharf Bay.
The man and his wife had been attempting to board their yacht when the man had suffered the fit and fallen into the sea.
Luckily the water was not very deep and his wife was able to jump in and hold hold his head out of the water until some members of the public helped them to the shore.
The ILB was stood down on entering the channel at Red Wharf and returned to station.
More Moelfre Lifeboat Incidents will appear here in due course.






Return to Moelfre Lifeboat Station from Moelfre Lifeboat Incidents

Return to Anglesey Informer

Anglesey Today