Marianglas Community Woodland
Marianglas is a picturesque village on Anglesey's east coast, located between Benllech to the south, and Moelfre to the north.
The village of Marianglas is unique on Anglesey because it boasts an expansive village green, and a nearby hazel wood growing on limestone pavement.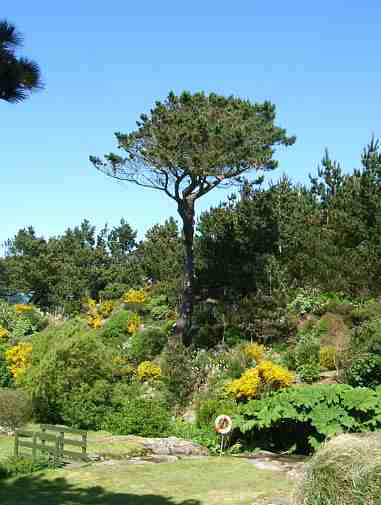 Limestone pavement is exposed limestone that has been weathered to form characteristic blocks, known as clints, divided by deep vertical fissures, known as grikes. It often takes on the appearance of a pavement, hence the name.
Marianglas village green and woodland are common land and are collectively named 'Y Marian'. Both are of significant conservation interest owing to their relative rarity on Anglesey and due particularly to their interesting calcicole (lime-loving) flora, which includes species like wild strawberry, salad burnett, wild violet, wild thyme, orchids and hart's tongue fern.
The woodland covers an area of approximately 3.5 hectares, and is dominated by hazel. It contains lesser proportions of ash, sycamore, and oak, and blackthorn, gorse and bramble scrub. One species worth looking out for at this time of year is spindle. Spindle is a native, twiggy shrub that displays vibrant pink seed capsules containing bright orange seeds - not unlike miniature Chinese lanterns!
---
Robins adore the fruits, but the foliage and fruit is poisonous to humans. The shrub is so named because its dense, hard, white wood was used in wool spinning. It was also traditionally used for making pegs and knitting needles.
For a number of years, Llaneugrad Community Council with the help of Menter Môn and Coed Cymru, has been helping to reinvigorate and revive Marianglas woodland through a programme of hazel coppicing.
Coppicing is a traditional woodland management technique that has been practiced in this country for millennia, whereby shoots (called poles or rods) growing from the tree base are removed for use in a wide variety of products - traditionally hurdles and fencing to control livestock and wattle in buildings.
Modern day coppice products include gazebos, arbours, plant supports and baskets. This treatment stimulates the tree to produce many new shoots at the base, which when managed, are left to attain a certain size, pre-determined by the proposed end use of the product, and harvested again a number of years later.
---
Coppicing provides a sustainable source of timber, employment for local people, and numerous benefits to local biodiversity and wildlife. Newly cut coppice allows light and warmth into a wood, encouraging the growth of woodland flowers.
In spring and summer the open, sunny conditions in these areas attract a huge variety of insects, which provide vital sustenance for populations of birds, bats, reptiles like common lizard and slow-worm, and small mammals like hedgehogs and common shrew.
As the coppice stools age, the canopy cover gradually increases, creating numerous micro-habitats of varying light intensity, temperature, moisture level and humidity. Coppice areas or 'coupes' at different growth stages allow species that favour light, warm conditions to persist in different parts of the woodland as new coupes are cut.
---
A project was recently carried out with the aim of better informing the future management of the woodland by the University of Wales Bangor in partnership with Llaneugrad Community Council, Menter Môn and Coed Cymru.
The main objectives of the project were to identify the users of the woodland and to assess opinions, values and preferences in relation to coppicing and other forms of woodland management.
MSc students carried out a community consultation in Marianglas and its immediate surrounds, using data collection techniques that included questionnaires, focus group discussions, interviews and an open day (held on 14 October).
---
Also on show was a yurt (a portable felt dwelling used by nomads in the steppes of central Asia), a wood craft display and guided walks around the woodland. The open day was very well attended (helped by glorious sunny weather!) and feedback from participants on the day was positive.
The results of the project are currently being collated and will be presented to the Community Council in due course. Preliminary results show a marked acceptance and approval of coppicing at Marianglas.






Return to Anglesey Informer from Marianglas
Return to Homepage