Llanbadrig Church, Anglesey
You will find Llanbadrig Church on the North coast of Anglesey, near the coastal village of Cemaes. The church is rich in history and well worth your time to visit. As probably the oldest Christian site in all Wales, it dates back to at least 440 A.D, not long after the Roman army left Britain.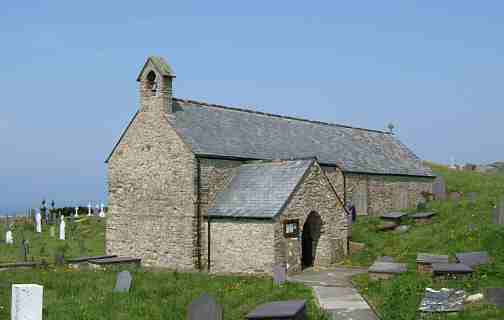 Llanbadrig is the Welsh for "Church of St.Patrick". Many believe this to be the same Patrick who became the patron saint of Ireland, and this is the only church in Wales dedicated to the saint.
I got to the church by taking the first left turning on the A5025 going eastwards towards Amlwch after leaving the village of Cemaes.
Take care along the narrow, winding country lanes. You'll then pass the Gadlys Hotel on your left and continue for about 1/4 mile until a small junction at which you take the right turn (also signposted for Anglesey's only vineyard).
The church is about a further 500 metres along and there is a good car park just outside. I chose a fine, sunny day for my second visit to this lovely spot.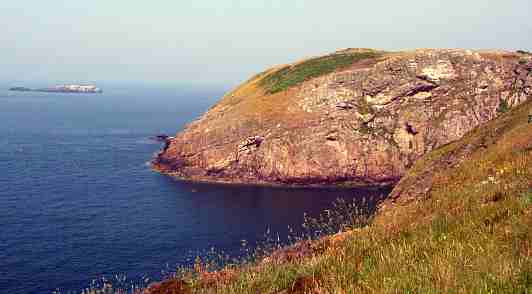 To the west across the glistening bright blue sea I could West Mouse and the Skerries Lighthouse, and to the left Wylfa Power Station.
The recently opened Anglesey Coastal Path runs along the cliff tops just beyond the churchyard cemetry and looking out in a north easterly direction you can see Middle Mouse, another rocky outcrop to keep it's West cousin company.
And Demi Moore was here when she filmed Half Light.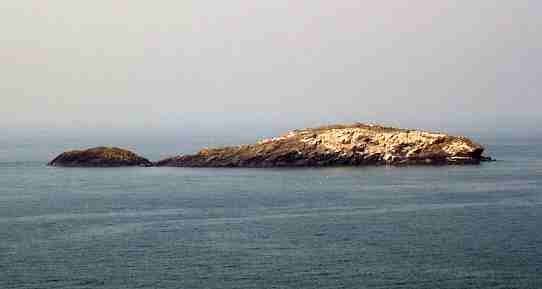 I wanted to know, just like many others, how St Patrick got to this isolated, rocky coastline of North West Anglesey. As with many old stories, there are conflicting accounts, but my luck was in as I came across a Mr Jones who looks after the church.
So I said to him: "So why did Patrick choose here?".
"Bishop Patrick had been charged by Pope Celestine with converting the Irish to Roman Catholicism. While on passage Patrick's ship sailed into a fierce storm and his ship was wrecked on Ynys Badrig (or "Middle Mouse" as it's known today)", said Mr Jones.

"And then, what happened", I asked, getting more curious.
" Miraculously, Patrick must have managed to swim across from Middle Mouse to the Anglesey coast at Rhos Badrig. He discovered a cave (Ogof Badrig) for his shelter and a nearby well for water.
Before long , he set about building his church on the high headland overlooking Middle Mouse as a votive offering to God for saving his life in the storm."
This was remarkable. I was amazed. When you walk over the cemetry wall and onto the Anglesey Coastal Path you immediately see the lumpy sea and crashing waves below.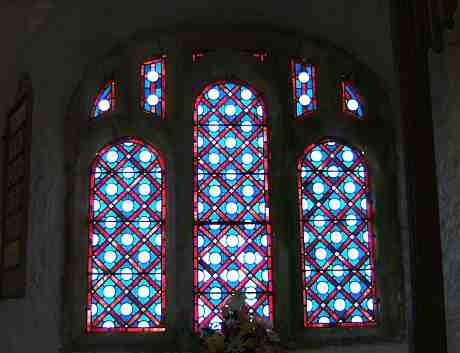 Not a place for a keen fisherman casting off the rocks on a windy day. All I can say is that this Patrick must have been a pretty strong swimmer.
You see, I've sailed past Llanbadrig many times when taking part in yacht races and I can tell you the tidal currents are very strong. Boats are swept along at a rate of knots from Middle Mouse to Carmel Head and Skerries Rock.
The Church
Llanbadrig church is of solid stone with a slate roof and about 70 feet by 17 feet. It is restored in what I call the traditional 16th century style and there was a fire as recent as the 1980's which caused some damage which has since been repaired.
The porch is a later addition to the main church building and in there you'll discover a Holy water stoop in the floor.
But what I found really fascinating inside the church was an old black gravestone fixed at the base of the west wall.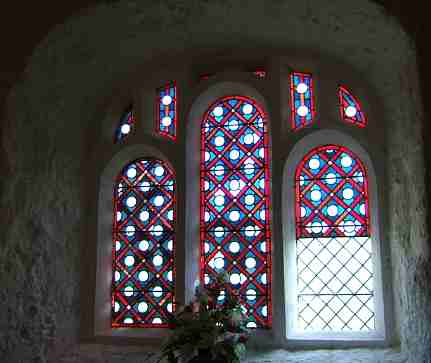 Rome and early Christianity
Various stories have circulated as to its purpose and origin. Once theory is that the stone dates back to the 9th century. A more interesting one is that the stone, which bears the fish symbol, ICHTHUS, goes back to the 3rd century. But significantly it seems this type of stone is only found in the Catacombs of Rome.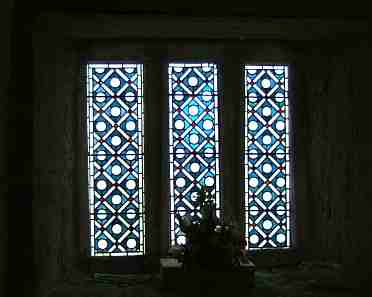 Links with Islam
"Is this so?", you might be saying.
Between 1840 and 1884, Llanbadrig Church was lovingly restored to how we see it today. The man responsible for this feat was Lord Henry Stanley, the 3rd Lord Stanley of Alderley.
Well, Lord Stanley converted to Islam, and was, indeed, the first Muslim member of the House of Lords.
The use of blue is very noticeable in the tiles, mosaic and stained glass and gives the feel of being inside a mosque.
Visitors can also admire the use of red and white in the patterns further enhancing the undertones of Islamic art.


So, I can highly recommend this beautiful location of Llanbadrig on Anglesey. Where you can enjoy breathtaking sea views, walk along the coastal path and appreciate a historic site where early Christian artefacts blend in with elements of Islamic art.
If you would like to leave a comment about this page, please go
here



Return from Llanbadrig Church to Attractions

Historic Coast

Anglesey Today