Katherine Fuller, an Anglesey Sculptress
At the tender age of 91, sculptress Katherine Fuller's passion for art and her grim determination to create, largely through self-teaching, is clearly evident. She still spends her spare time sculpting and painting for pleasure.
Age, it seems, is no barrier to creativity!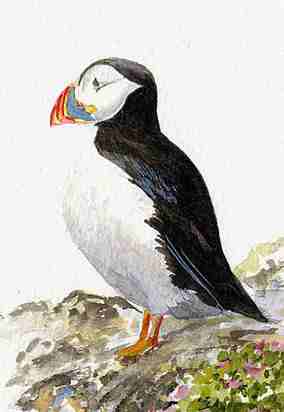 Her sculpting days started in the early 30's, spurred on by evening classes at St Martin's Art School in London where she was taught modelling and how to cast and make a mould.
Having met her future husband, the late John Fuller whilst working in London, the couple married in l938, and moved up to Caernarfon during the war, where she pursued her passion from a workshop in the garden.
It was during this time that she created her first head sculpture of her five year old son, Richard which went on to win first prize in an Eisteddfod in 1952. Around this time she also began to paint and was pro-active in starting an art society in Caernarfon.

---
When Katherine and her family moved to Shrewsbury in 1955, she was able to re-start classes at Shrewsbury Art School supplemented by her salary from her recently acquired job in teaching art at a boys school in Oswestry.
This appeared to be the motivating factor in launching her career as a sculptress as she started meeting other artists and acquiring commissions.
Much of her work can be found in the homes and gardens of friends and acquaintances but she once did a portrait sculpture of the late Lady Serena Bridgeman of Weston Park which is still on show today at the great house. She also created a Christus for Penant Melangell Church in Cwm Penant near Bala and had a bronze sculpture exhibited at the Royal Academy in 1956.

---
Her sculpting uses different mediums, bronze, clay, wood, and terracotta. The sculpture begins by producing a wire frame, known as an armature, upon which the clay is applied and built up and moulded to form the portrait.
Her subjects would sit for up to a week, and Katherine's meticulous modelling was based as much on their character (which she became acquainted with over the week) as their likeness. One of her last major projects was sculpting some bronze dolphins for her son Richard.

---
Very recently Katherine has moved to Marianglas where her daughter also lives. It is uplifting to see such talent living on your doorstep.
The artistic temperament is undoubtedly in the genes, her father being an architect and his cousin, Oswestry born composer Sir Henry Walford Davies, who wrote Solemn Melody.
Her mother produced many beautiful pieces of woodcarving and Katherine's grandson, Robert, is a well known wildlife artist based in Yorkshire.

It was a pleasure to speak to this inspiring lady who showed a keen mind and desire to create at this stage in her life.
Katherine Fuller is surely an example to us all of how to maintain an artistic mind and a focus and direction in our later years.

If you would like to comment on the above article about Katherine Fuller or ask for more information, please complete the contact form below:





Return to Anglesey Informer from Katherine Fuller
Return to Homepage