David Jones, a Beaumaris Artist
David Jones is a local Beaumaris artist who is exhibiting his work at the Ganolfan centre in the Anglesey town.
If you want to go along and see his work then make a note in your diary sometime between 23 May and 7 June.
Canolfan Beaumaris is open daily between 10 am and 5 pm.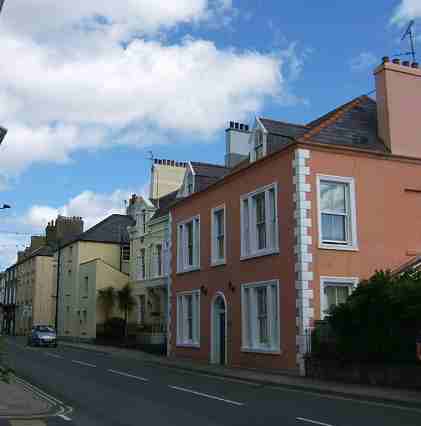 My work as a professional artist has been in the fields of design and of art and design education. Until receently I was Senior Lecturer at the Central Saint Martins College of Art & Design.
I have striven to occupy a territory where the worlds of design and fine art are at their most close.
I see the many worlds of art and design likened to geological tectonic plates which grind slowly past each other; although it's safer in the middle, the most interesting things happen where the plates collide.
One of the highpoints of a teacher's experience is when the learning process works both ways. I have gained energy and inspiration from long contact with talented young artists and designers.
My own teaching career has coincided with a period in which exciting things have been happening in art education, not least in the erosion of barriers between the traditional disciplines.
It goes without saying that a work of visual art should communicate on its own, without explanation.
For me art is a way of looking at the world, and a language with infinite potential for invention.
The twin starting points from which I hope to move forward, are what I see and experience, and what I learn from (and steal from) the art of the past.


---
Here we invite David Jones to explain his views of the world and how he communicates through his art. My work falls into three areas:
Visual diaries in which I try to respond directly and spontaneously to the world as I see it.

Small three dimensional figures made from wood and MDF, coloured with acrylic paint.

One area of subject matter I am currently exploring is that of the mythical characters that inhabit the subconscious: the archetypes that populate our world from childhood: angel, mermaid, king, witch, soldier, etc.

Where I am trying to respond to events when it's not practical or possible to make objective drawings, in other words when I create images from memory, usually realised through the medium of monoprinting.
I would like to be able to make connections between these three areas and to engage my design/illustration background.
---
We look forward to visiting the exhibition when it opens in Beaumaris and to having the opportunity to speak with David Jones.




Anglesey Today