Crys Pearce, Anglesey Artist


Crys Pearce opened her new art studio in August 2006. It provides a cosy working space for developing and exhibiting her paintings.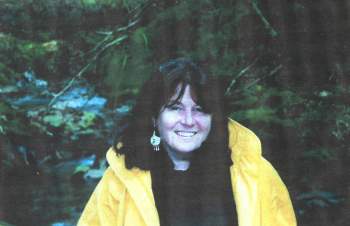 Crys Pearce is proud of her studio. It was skilfully created from a dilapidated and storm damaged workshop by Menai Construction Company.
Through careful design and planning Crys has created a small viewing gallery open to the public on advertised 'open days' or by request.
She likes to create messages about diversity because that has been her life experience. This is what fascinated Crys about her return to Anglesey.
Born in Walthew Avenue, Holyhead and raised in London, Crys reflects on how her life was a pretty good start to handling diversity.
There is so much here that reflects these contrasting components. From cromlechs and chapels to castles - the political and spiritual life of Anglesey was cast centuries ago.
There is so much material and evidence to interpret, and that inspires the imagination.
---
You will see the painting chosen for the cover of the Anglesey Informer gives an idea of how she approaches painting.
The natural world is often present in Crys's work. She creates a backcloth to enable metaphors to transcend the human condition.
These are encoded in the work predominantly through colour.
The public are also enjoying, as never before, opportunities to buy original art direct from the artist.
Arts Week on Anglesey is just such an opportunity to go studio trotting and meet and talk to artists.
This is what Crys Pearce had to say about Arts Week 2007:
"Visitors were both interesting and interested. Many, coming from a distance, commented on the high standard of work across the island and felt the Anglesey Arts Forum had shown a huge commitment through the quality of their brochure and publicity to raise the awareness of what is happening in the visual arts in Anglesey.
Visitors appreciated the opportunity to talk directly to artists about their work. I would certainly take part next year and it was a pleasure to open my studio/gallery to the general public and have the opportunity to studio trot myself and chat to other artists - there is a wealth of talent on the island."
Congratulations to Crys for having her image selected from the Anglesey Arts Weeks brochure for publication to a wider UK audience. She has been highly recommended in the UK booklet Galleries - April edition. Well, done Anglesey Arts Forum for Arts Week and providing us with this highly appreciated event.
So if you would like to visit the Crys Pearce studio, it will be open by appointment.
Her studio is at Maes yr Awel, off Mount Street, Menai Bridge, Anglesey, LL59 5BU