Crossing Menai Bridge, Telford's Legacy


The following story about crossing Menai Bridge is taken from the book 'Folk Tales of Anglesey'. It is reproduced by kind permission of Arwel Hughes who compiled this collection during his time as Headteacher at Aberffraw Primary School.


Before the Menai Bridge was built Anglesey folk used to cross to Caernarvonshire in boats, while their animals swam from the Island of the Pigs (Anglesey) to the mainland.
The engineer was Thomas Telford, who came of an ordinary family, and was the son of a shepherd.
Building work on the bridge began on 15th July, 1818, quietly and without fuss, with about a hundred workmen to begin with.
Quarries were opened at Penmon, and the stones for the building of the bridge were loaded onto boats.
Later the work on the Caernarvonshire side was begun, and by 1820 it was a very busy scene.


---
The arches for the chains took four years to build, and on the 26th April, 1825, the first chain was thrown across, and a large crowd had gathered to see this.
Lifting the chain began at half past two in the afternoon. As the chain was lifted higher and higher, the crowd of thousands of people became silent, and by about a quarter to five you could hear a pin drop.
Everyone held his breath, fearing that some disaster would happen. But at ten to five the last bolt was in its place, and the first chain was safely over Menai Bridge.
Having got it in position, three men went along it, and another man made a pair of boots as he sat on the chain, and sold the pair for a pound.
The last chain was in its place by Saturday 9th July 1825, and the first ship to sail under the bridge was the 'St David' of Chester.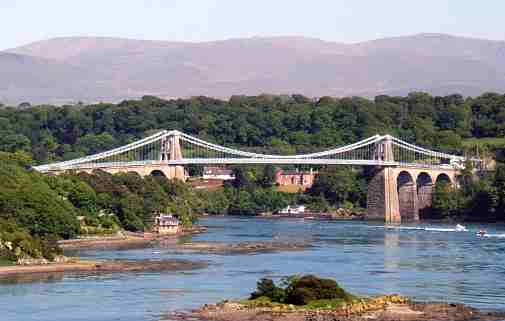 It took an additional few months to finish the work, because the wind was so blustery, but it was opened for vehicles on Monday 30th January, 1826.
Crossing Menai Bridge first was a coach carrying Government mail, the second a coach belonging to O F Meyrick of Bodorgan.
Then, the third coach, belonging to Sir David Erskine, was drawn by four grey horses decked with colourful ribbons.
That's the history of the building of Menai Bridge, but there is a tradition in Anglesey that the first person crossing Menai Bridge was an old thief.
The police were after him, so the story goes, and he was running for all he was worth before them till he came to Menai Bridge.
The story also tells us that no one till then had dared to cross the bridge, all were afraid.
Well, the old thief had to choose one of two things, to be caught by the policemen and thrown in to prison, or chance his life by crossing the bridge.
He chose the second, and he crossed over to Caernarvonshire.
I don't know what became of him later, whether he was caught or not, but that is how the tradition goes, that the first person crossing Menai Bridge was an old thief.



Anglesey Today