RIBRIDE Duck Race Winners
by Jo Quinney
(Menai Bridge)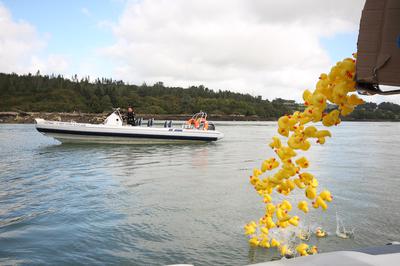 Phil Scott from RIBRIDE Adventure Boat Tours launching the Ducks
The team at RIBRIDE Adventure Boat Tours have raised £900 for Macmillan Cancer Support.


The local prize sponsors enabled the team to give four prizes to the winners of 'The Inaugural Duck Race' from Britannia Bridge to Thomas Telford's Menai Bridge.
"We have created a new and fun charity event and we are grateful for the support that we received. Raising £900 is amazing for our first year. We held the event in commemoration of my Mum's birthday. It was an affirming way for me to remember her and honour the fantastic Macmillan cancer nurses who cared and supported her during her last few weeks," says Phil Scott, RIBRIDE Adventure Boat Tours.
This year's sponsors included RIBRIDE, Dylan's Restaurant, Benjamin Lee Chocolatier, Space Like This and Engan Creadigol Creative, and the prize-winning ducks were sponsored by: in first place, Julie Hughes; in second place, Mavis Jones; in third place, Julia Hughes Roberts; and in fourth place, Martin Aughton.
"We counted all the 400 ducks out and then raced about to pick them up from the water in Menai Bridge. We will reuse the ducks next year, when we will hopefully have an even bigger event with more ducks sponsored to take the thrilling journey between the bridges," says Phil.
For more local stories and articles subscribe to
Anglesey Newsletter
here.