Island Artist with Canaletto and Kyffin Williams in Venezia
by Jo Quinney
(Menai Bridge)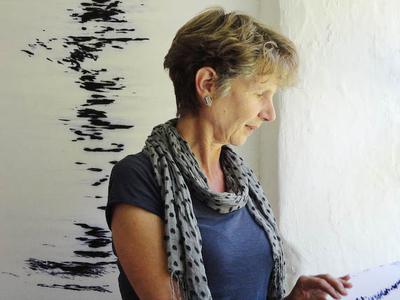 Anglesey artist Helen Grove-White
Anglesey artist Helen Grove-White has been chosen to display her contemporary art works alongside the new exhibition, Venezia, which features the late Sir Kyffin Williams, Anglesey's best loved painter.


Opening at Oriel Ynys Mon on July 19th, Helen Grove-White will show her contemporary works on the theme of Venice.
While Kyffin's show, including works by his predecessors Canaletto, Guardi and Sickert, is called 'Drawn to the Light', Helen has referred to hers as 'Drawn by the Light' in a nice little play on words since her work is literally drawn by the camera as it reacts to the light on the water.
Helen has become fascinated, like most artists in Venice, by the play of light on water and has chosen to make this her theme, travelling with pocket camera and flip video on several trips to Venice to see the Venice Bienalle.
Not content with mere photographs Helen always extends or alters her images, stimulated by ideas as well as places.
The central idea here is that of the digital sketchbook, rather wickedly challenging Kyffin's lack of sympathy for contemporary art and his championing of the traditional discipline of drawing.
"I do draw as well", asserts Helen, "but on this occasion it was important that these images were created another way".
Little did she imagine that her playful digital drawings would find a place next to Kyffin, giving the gallery goer the chance to see a variety of approaches to a subject.
"I never set out to make an exhibition of works on Venice but I have been given the perfect time and place for my collection on this theme."
Since graduating in 2005 Helen has shown her work in Ireland, Scotland, England and Wales as well as the USA.
She has also become well known in the Anglesey art scene. As Vice chair of the Anglesey Arts Forum, she helps to support the network of artists' Open Studios and opens her own studio every Easter for a show of her latest work encompassing video, installation and photographic works.
For more local stories and articles, subscribe to our free
Anglesey Newsletter
here. It's as easy as 1-2-3!