Holyhead Maritime Festival, Leisure, History
by Joyce Stalman
(Holyhead)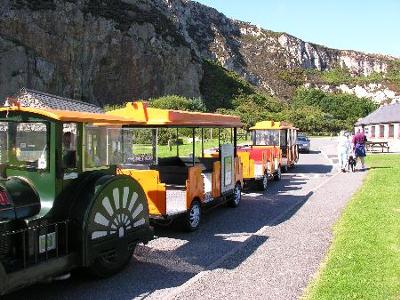 holyhead road train
Come and experience the Holyhead Maritime Festival on the last weekend of July, starting with a Grease Tribute at Holyhead Railway Club on Friday , 29 July 2011.


This is a popular event with local people and visitors alike, and let's hope for some sunny skies over the town. Tickets for the Grease event on Friday will be £10 per head, and early booking is advised to avoid disappointment (see contact details below).
Saturday 30 July starts with the Festival Parade Awards for Petal Rosebud, Princess Queen Court, the best float on the parade, and the best attendant.
All are invited to to take part in the flotilla, and the event starts at 11.00 am on Newry Beach. There will be an all-weekend Simon's Fun Fair, a pirate re-enactment of the Anglesey Hussars, along with a Holyhead Sailing Club Regatta.
There will also be Painballing, and Archery and rifle range and craft fair. Saturday comes to a close with a Celebrations Disco where Steve will challenge you to all sorts of fun.
On Sunday 31 July the Holyhead Majorettes will Eurwyn will entertain you at the Maritime Museum Charity, and there will also be Market Stalls as well as a not to be missed Coastguard and Lifeboat Demo; and much more.
For more information contact either Joyce on (01407) 764020 or Pauline on (01407) 760975
For more local stories and articles, subscribe to
Anglesey Newsletter
here. It's as easy as 1-2-3!