Gold for Moelfre Lifeboat Day
by Peter J Hogan
(Moelfre, Anglesey)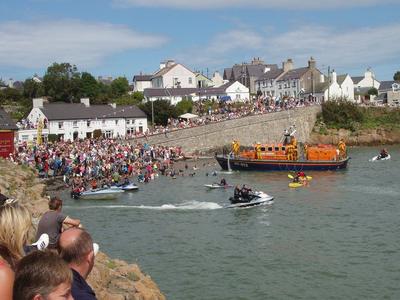 Moelfre Lifeboat Day
The highly successful annual Moelfre Lifeboat Day has won a Gold Award for Best Event of the Year on Anglesey for 2011/12. This follows Silver Award success in 2010/11.


The special day will be on
Saturday 18 August 2012
, and all are welcome to celebrate the distinguished record of service of the lifeboat crew of volunteers of many years.
Moelfre Lifeboat Day is an annual event which has been running since the 1970's and raises valuable funds for the RNLI station and lifeboat as well as for the village community in general.
Attracting an average of around 10,000 visitors on the day, the event plays a significant role in fundraising as well as raising the profile of the immensely valuable work of the RNLI and its dedicated lifeboat crew and support volunteers.
Yachtsmen, sailors and fishermen along the coast of North Wales and beyond will know of the long, distinguished and courageous record of successive RNLI lifeboats and their crew stationed at Moelfre, and this special day honours their past work as well as supporting the work of tomorrow.
Organising for the special RNLI Moelfre Lifeboat Day is driven by a core group of volunteers in the village, led by Mandy Dales.
On Saturday 18th August the Lifeboat station will be open from 10.00 am for guided tours.
There will be a Lifeboat launch and demo, with the inshore lifeboat standing by as well as an appearance from an RAF Air Sea Resuce helicopter from RAF Valley (if it is not called away on operations at the time).
Special arrangements have been made for parking which is free and there is a bus shuttle service for convenience of visitors. There will be limited parking available in the village centre, but this is for Disabled Badge holders only.
It promises to be another great day out for the family in an historic maritime community set in an Area of Outstanding Natural Beauty and with access to some great coastal walks on the nearby
Anglesey Coastal Path
.
We look forward to welcoming you to the Moelfre Lifeboat Day.
Peter J Hogan
Moelfre, Anglesey
For more local stories and articles, subscribe to our free
Anglesey Today News
here. It's as easy as 1-2-3!