Carloe Randall, fine art etchings, Pwllfanogl, nr Llanfairpwll,
by Jo Quinney
(Menai Bridge)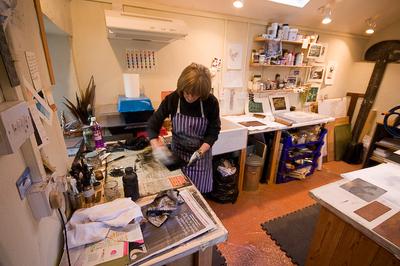 Carloe Randall, etchings in black and white and multi-plate colour, Pwllfanogl, nr Llanfairpwll, Anglesey
Visitors are flocking to Anglesey this Easter to enjoy meeting artists in their studios. Over Easter, 57 artists and 8 galleries throw open their doors to allow visitors to see this normally hidden world.


"We have some great artists who draw and paint in watercolour or oils on Anglesey, but there is a lot of other art going on," says Carloe Randall, etchings artist. Anglesey Arts Forum members include: film makers, jewellers, multimedia and mixed-media artists, photographers, potters, printers, textile artists and sculptors.
"We had an estimated 15,000 visitors last year to the Anglesey Arts Weeks Open Studios and Galleries and this Easter we have had exceptional interest again. We want to get the message out there that great art happens here and you can experience it by visiting your local artist or crafts person," says Mike Gould, voluntary Chair of the Anglesey Arts Forum Committee.
"I had hundreds of visitors last year and this year is looking good too. I wish we could get the message spread far and wide to encourage people to visit.
Even people walking on the Anglesey Coastal Path spot my big open studio and the Forum logo and arrow signs and visit my studio, not knowing what is going on. Everyone is welcome," says Carloe, who could not pronounce Carol, her given name, when she was very little.
The studios and galleries are open on various days and at different times. A 48-page colour Guide is widely distributed and a PDF version is also available to download online at www.angleseyartsforum.org.
Funding from project supporters such as Arts Council of Wales, and Anglesey County Council, has allowed the development of the website, the design, print and distribution of the Guide, and the production of signage and has supported the promotion
of the event.
The project has received funding through the Rural Development Plan for Wales 2007–2013, which is funded by the Welsh Government and the European Agricultural Fund for Rural Development.
"I studied art at the Ruskin School of Drawing and Fine Art, Oxford, in the 1960s and I still go to life drawing classes in Caernarfon. I became an interior designer and went to evening classes to learn etching techniques. I became completely addicted to print. My husband bought me a printing press for our 20th wedding anniversary present and I committed to creating etchings," says Carloe.
Using the 48-page colour Guide, you can plan to visit printers such as Carloe, Wil Rowlands and Eirian Llwyd. The Anglesey Arts Weeks Open Studios are divided into Clusters to help artists work together in a locality.
Carloe is a member of the Southern Cluster. Artists in the Southern Cluster also include: David Weaver, Terrill Lewis, Christine Garwood, Allan Redfern, Helen Lopez, Arfryn Textiles, Glyn Davies, Flights of Fancy, Anna O'Higgins, Brian Bayliss, Laurie Kitchen and Dorothy Russell, Andrew Southall, Eirian Llywd, Kate Evans, June Hughes, Martin McCall, Eli Acheson, Susan Duxbury-Hibbert, and the art group Calx Creo.
"I have created four new etchings for the Arts Weeks and I print limited editions from my favourite plates. I have an area of my house as a gallery and I welcome folk into my studio. Everyone is fascinated my press, the plates, the acid and the technical side of creating an etching," says Carloe.
Anglesey Arts Weeks Open Studios and Galleries 2013 is on now until Sunday, 7 April 2013. For further details, daily schedules, member profiles, images and information about the studios, go to: http://www.angleseyartsforum.org.
For more local articles and stories, subscribe to our free
Anglesey Newsletter
here.