Beaumaris Festival 22 to 29 May 2014, Featured Artists
by Jo Quinney
(Menai Bridge)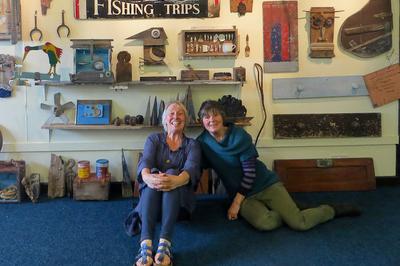 artists Alison Englefield and Clare Calder-Marshall at the Exhibition set up
Amid the twenty-four events at this year's Gŵyl Beaumaris Festival, Thursday 22 May to Thursday 29 May, there is a Festival art exhibition at the Beaumaris Canolfan Gallery, a Festival craft fair in the 'Marquee on the Green' and the Woodturners Exhibition in Beaumaris Town Hall.


"We love the diversity of the Festival with classical music, jazz, talks, readings, art, craft, even a wine tasting and a festival lunch; that diversity continues within the Festival exhibition," says artist Clare Calder-Marshall.
The Festival exhibition is a celebration of Gallows Point, the old sheds and the history of the site. It remembers the years when Will Morris and Stan Leavett built the first custom made boat for the Strait, the Menai Strait One Design.
"We have an original letter from the designer, Rowland, in which he discusses design changes to the boat. But we didn't want the exhibition to be too dry and historical. For us the community is as important as the buildings.
So we have included portraits of the mariners for whom Gallows Point is, or was, home. And a huge frieze of boats entitled
Sailing on the Straits Past & Present
," says artist Alison Englefield.
"You can experience so much at the Festival and we really enjoy hearing the young musicians," says artist Clare Calder-Marshall. The Festival's
'Young Artists Series'
has proved immensely successful; 2014 sees an exciting new
'Young Pianists Series'
. This is a chance to hear a range of artists before they become famous.
"The Festival offers a wonderful opportunity to young performers. You are aware of the challenge of the pieces they're playing and the audience is always so supportive. You can see the concentration in their faces and the experience for performer and audience is always electric. We hope the exhibition will be just as memorable," says artist Alison Englefield.
All twenty-four Festival events can be booked online now at http://beaumarisfestival.com,with no booking fees, as well as through the box office in the Bulkeley Hotel, telephone 01248 800801. Once purchased tickets will be available 'on the door' with proof of ID.
Get your free
Anglesey Newsletter
here