Anglesey Turbines Outstanding Green Project
by Jo Quinney
(Menai Bridge)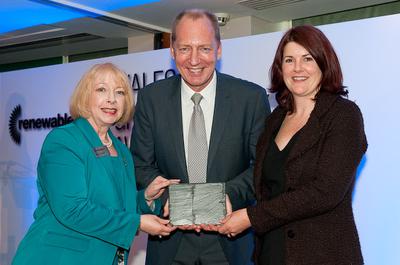 Maria McCaffery of RenewableUK presents Green Energy Award to Richard Mardon and Alison Hood of Airvolution Energy
The Ysgellog Farm wind turbines on Anglesey are the most "Outstanding Green Energy Project" in Wales, as Airvolution Energy Ltd receives the top award at the Wales Green Energy Awards.


The awards, organised by RenewableUK Cymru, singled out the project because of Airvolution's commitment to retain economic benefits within Anglesey during the construction period and in founding the Ysgellog Community Benefit Fund.
"Giving priority to the local goods and service providers is really important to us; 71% of our suppliers were Welsh and 35% were from Anglesey, representing a spend of £316,000 on the Island.
Winning an award is a great opportunity to showcase what we have achieved on Anglesey," said Richard Mardon, Chief Executive Officer, Airvolution Energy Ltd.
The winners were announced at a prestigious awards lunch in St David's Hotel, Cardiff, on Wednesday 9 October. The awards organiser, RenewableUK, is the UK's leading renewable energy trade association, which supports the development of UK wind and marine energy.
In addition to successfully generating a significant amount of clean, renewable energy, the wind turbines at Ysgellog Farm are bringing benefits to the local community through the Ysgellog Community Benefit Fund.
The two turbines will deliver £465,000 in community funding over the next 25 years. Groups within a 6km radius of the turbines are being encouraged to submit an application for the first round of funding. Submissions close on 28 October 2013.
"We have won the award in the same week we launched our community consultation for two new wind turbines on neighbouring land at Bodewryd Farm, Rhosgoch.
We will continue our commitment to Anglesey by using local suppliers and, if the Ysgellog 2 turbines are approved, we would aim to improve the amount that stays within Anglesey during construction.
In addition, there would be £20,000 per year to add to the community fund, worth £500,000 over the lifetime of the project," said Alison Hood, Communications Manager for Airvolution Energy.
Further details about Airvolution, Ysgellog Farm and the Ysgellog 2 project can be found at
http://www.ysgellog2-wind.co.uk
For more local articles and stories, subscribe to our free
Anglesey Newsletter
here. It's as easy as 1-2-3!