Anglesey International Market Launch
by Olivier Simonin
(France)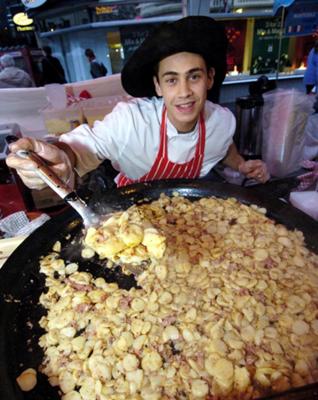 Island towns of Llangefni, Menai Bridge and Beaumaris will host first-ever International Market on Anglesey in a weeks time.


Llangefni will host the market launch at the town hall car park on Thursday 7th and Saturday 9th July 2011.
Then the mew initiative moves to Menai Bridge (Coed Cyrnol car park) on Friday 8th and finally to Beaumaris (the Coach car park) on Sunday 10th July, 2011.
All three towns will be host to a wide variety of continental market stalls.
Over 25 traders from all over Europe, many wearing traditional costumes, will arrive on Anglesey for this amazing three town tour.
The International Market will also feature fair trade products such as art and woodcarving items, handmade clothes from Africa, south East Asia and Latin America.
For food-lovers there will be a chance to buy a whole range of delights including Brittany biscuits, olives, Italian nougat and pungent cheeses.
And then there will be aromatic garlic, saucissons, Tartiflette from the Alps, charcuterie, fresh breads, croissants, bagels and much, much more!
Or, for those of you wanting something a bit stronger there will be a range of Normandy ciders and calvados to ward off the spring chill.
As well as the fine edible goods, you will also be able to choose from a wide range of products including hand bags & leather items, Marseille soaps, lavender, children's toys and pachminas, wooden arts and crafts!
These products cannot normally be found in your high street and there really will be something for everyone!
The three towns will be the scene of a bustling and colourful market.
Most of the products on sale will come from "the terroir" (the land) of the stall holder, where they are produced by small organisations such as family businesses, farms or small factories using traditional methods, maintaining a high standard of quality.
The Market will run from 9am until 5.30pm.
We look forward to seeing you there.
Yours,
Traditional Markets Limited
Telephone: +44 (0)791 6156954
http://www.traditionalmarket.co.uk/
For more local news and stories, subscribe to our free
Anglesey Newletter
here. It's as easy as 1-2-3!