Wylfa Sport Relief Mile
Wylfa Power Station hosted an Anglesey Sport Relief Mile on Saturday, 15 July 2006. Sport Relief comes under the umbrella of Comic Relief and aims to raise funds for good causes.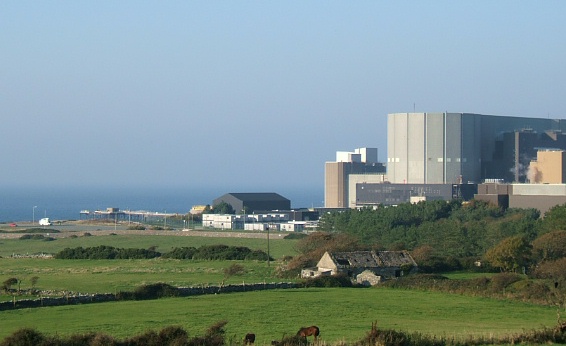 On a bright, sun soaked Saturday morning with hardly a white cloud in sight, around 100 hardy runners and their supporters gathered outside Wylfa Power Station to support a number of good causes.
As I arrived just after 10 o'clock activities were already getting underway. Some runners were doing last minute stretching exercises, others were keeping cool in the shade and taking water to keep up the fluids.
At the registration centre, Kay Wilkinson, who works as a communications assistant at Wylfa Power Station, along with other colleagues, were helping runners with paperwork.
"A number of the staff are volunteering to make today's event fun and a safe experience for all", said Kay.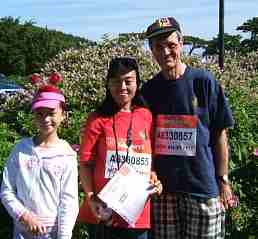 Among those taking part were Desmond and Porjai Burton and their daughter Carolyn, from Menai Bridge. "I am so pleased to be here today, so that we can help young children and others in Britain and the rest of the world", said Mrs Burton.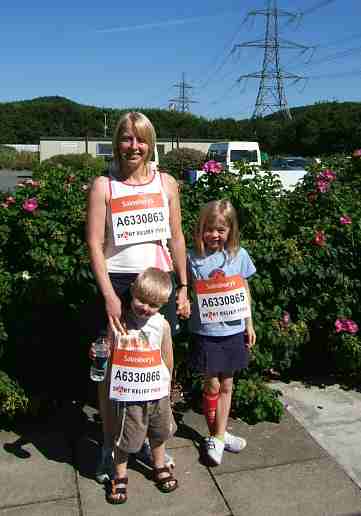 Also among the runners were the Bromley family from Trearddur Bay, mum Victoria with children Lucy and Tom, who may have been the youngest runner. There was also the Gwyn family from Gaerwen hopin to enjoy the whole event.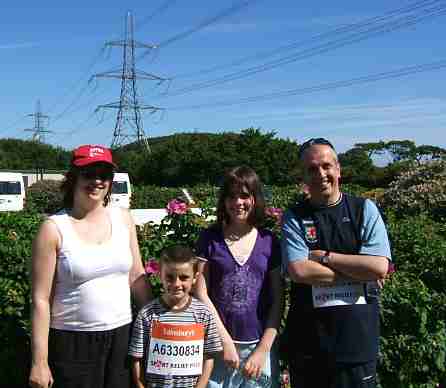 And there was a team of three from Star near Gaerwen: Debbie, Suzie and Jason, all ready to make a difference with their contribution.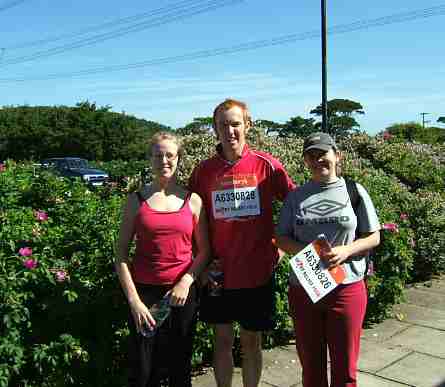 Some had come a long way to take part. Take Michael McGlynn, from Mossley Hill Athletic Club in Liverpool. Michael said: "This event is great because it raises money for good causes but also encourages children to exercise and get fit, rather than sit around at home watching TV".

A close finish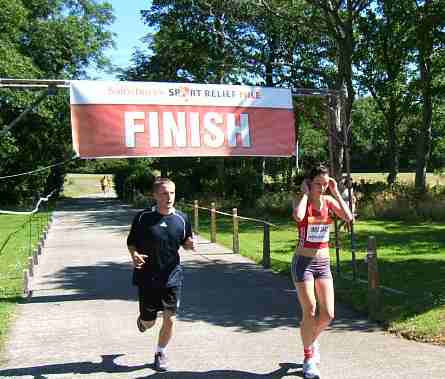 Speaking just after crossing the finishing line, David Stretton, who works at Wylfa and originally had the idea of staging the event here said: "I'm really pleased with the response and enthusiasm from all those who expressed an interest in this Sport Relief event"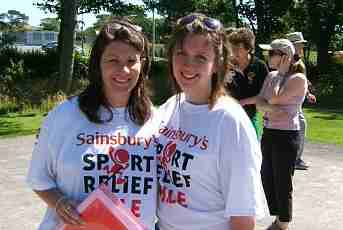 There was also a Healthy Living promotion on site, a theme which seemed to tie in really well with a mile run for all. Jane Topham and Lowri Jones were the joint organisers of what turned out to be a really succesful day.
Jane said: "I'm delighted with the response from all those who have come to support Sport Relief and from colleagues at Wylfa who have volunteered their time"

Let's hope that next year we can build on the success seen here today,raise more funds for good causes and keep healthy at the same time!
Below is your chance to post a comment about the Sport Relief event and/or your experience.

Read your Comments



Visit nearby Cestyll Garden

Return to Wylfa from Sport Relief

Home