Hire Solicitors in Holyhead, Legal Solutions from Holyhead Solicitors
You may be looking for solicitors in Holyhead to help you with a whole range of legal problems, whether you are living on Anglesey or considering moving to the island.
When you decide that you want to use the legal services of Holyhead solicitors, there may be a few questions you need to ask before hiring their legal practice.
Firstly, when you are searching for solicitors in Holyhead look at how many practitioners there are in each practice as this will give you an indication of how many areas of law they may cover in depth.

If you are looking for a Holyhead solicitor to do something relatively routine like prepare a simple will or carry out probate work then it is likely that a generalist will be able to do this work effectively.
Of course you may want something more specialist than will preparation or conveyancing for a property purchase, in which case you need to ask what specialist areas are covered by the solicitors.
A second consideration is to find out what, if any, accreditation schemes any of the Holyhead solicitors belong to. Previously regulated by the Solicitors Regulation Authority, this has since 1 July 2009 transferred to the Law Society.
The guidelines under the scheme have not changed and accreditation gives a prospective client confidence that solicitors in Holyhead with such designation have had to prove they have the required expertise and skills in a given area of law.
You should feel more confident that a solicitor who has this designation will be competent to deal with your problem. So what areas of law could Holyhead solicitors be given accreditation for?
Among the specialisms within the accreditation scheme are: Clinical negligence, Children's law, Planning law, Family law, Criminal negligence, Immigration and Asylum, and Personal Injury. So when you make enquiries ask about this accreditation.


Thirdly, you may want to ask the solicitors office whether or not they have adequate access for disabled people as this is now required following the Disability Discrimination Act 1995. It may be that the office has carried out an access audit so that the needs of physically or mentally disabled people are accommodated.
List of Solicitors in Holyhead:
Evans, T R Hughes & Co., Victoria Chambers, Holyhead, T: (01407) 762204
This practice is next to the Cenotaph Memorial and has five practicing solicitors, three of whom are partners. It is not clear what accreditations are held by the practitioners. Ground floor access is possible for disabled people but there is a small step at the front of the building, and rooms are available without need to use stairs.
H Jenkins & Hughes, Stanley House, Market Square, Holyhead, T: (01407) 762301
Set back in Market Square between the former Roman walls and arch leading to St Cybi's Church and the Captain's Table cafe, there is a ground floor office for meetings, according to the firm.
It is not clear whether any of the two partners are members of the Law Society accreditation schemes.
Tudur Owen Roberts Glynne & Co., 6, Stanley Street, Holyhead, T:(01407) 762374
This solicitor practice is adjacent to the Gateway cafe and has three partners and ten associates with various specialisms.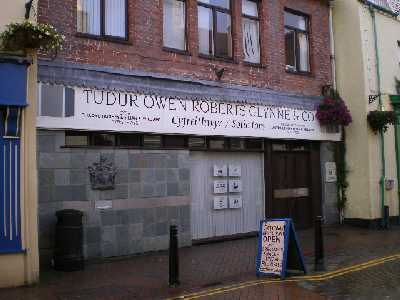 It is not clear whether any have the specific Law Society accreditation shown above.
Their literature does say, however, that they cover wills, child law, conveyancing, divorce, accidents and injuries litigation, licensing and employment.
Access for disabled clients appears to be adequate and there are rooms on the ground floor.
So whether you are wanting to pursue a clinical negligence case, prepare a will, resolve a family dispute or any one of a number of other legal problems, we hope you will find one of the firms of solicitors in Holyhead able to resolve your problem to your satisfaction and cost effectively