Beaumaris Community News
Get the latest Beaumaris news and information on events in the local community.
The Anglesey Informer will keep you up to date with what's on in and around the local area.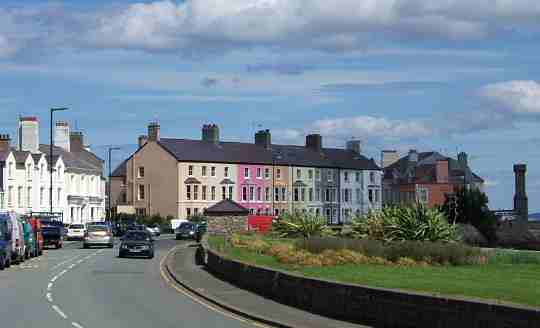 Below you will find the latest local news and events.
If you want to include an event that you would like to highlight, feel free to enter the details in the box here.

---
NEW! ST DAVID'S HOSPICE LATEST LOTTERY RESULTS HERE
---
Information on David Hughes Community Centre
David Jones, Beaumaris Artist: Exhibition at "Y Ganolfan" from 23 May until 7 June 2007. For more information, see here.
2nd April - 17th May
Eluned Tudor Grant RCA has an exhibition entitled 'Journey' - Inspired by the Drowning of Capel Celyn. Colour has always underpinned and been celebrated in Eluned's work.
It is one of those elements as well as mark making that is expressive in its own right creating mood and meaning. Metaphors for the human condition expressing loss, renewal and celebration are reflected here in this exhibition. Venue: Canolfan Beaumaris
Friday 2nd March 12 noon
'Frugal Lunch' organised by Christian Aid - home-made soup & bread - Fair Trade stalls - Town Hall
Saturday 10th March 10am
Crossroads Coffee Morning - Town Hall
Friday, 23rd March 7.30 pm
Friends of Beaumaris Festival Society are holding a fund raising Jazz concert (Gwyn Evans and his Jazz Quintet) at the Canolfan, Beaumaris starting at 7.30pm (doors open 7pm) Tickets £9 (to include buffet and glass of wine). Admission by ticket only available from Beaumaris Newscentre from Monday 5th March.
Saturday 7th April 10am
Samaritans Coffee Morning - Beaumaris Town Hall
THE BEAUMARIS ARTISTS
The Beaumaris Artists have got together and synchronized their opening hours. They have also produced a map to help you find your way around the studios in the historic coastal town and nearby villages. Every body is very welcome. There are also exhibitions to view at the Canolfan and David Hughes Centre, shops to visit and many places to find a snack or a delicious lunch. More News Here Soon


BEAUMARIS FESTIVAL
For more informationClick here


CASTLE PLAYERS
21,22, and 23rd March 2007 at 7.30 p.m
Castle Players ADS present 'The Anastasia File' by Royce Ryton and directed by Joan Vickers.
It tells the intriguing story of Anastasia, Grand Duchess of Russia, and her fate after the execution of Czar Nicholas and his family in July 1918. Now firmly established in the theatrical repertoire, this will be the first time this high class play has been performed on Anglesey and we look forward to seeing you in the audience. Performances in the Town Hall on 21, 22 and 23rd March at 7.30pm and tickets available from the News Centre Tel 810022.
East Anglesey Youth Centre Association C
The AGM will be held on Wednesday January 10th at 6.00pm at The Canolfan Iorwerth Rowlands Centre. All members of the community welcome.
Coleg Menai
Coleg Menai starts new courses during the week beginning Monday 22nd January to include:
Singing for Pleasure, Photo Shop, Local History, Latin Dancing.
Enrolment day is Monday 15th January for further information please contact the Centre Staff Tel: 01248 811508 or email: < >canior AT btconnect DOT com
50s Club
Monday 30th July
Beaumaris 50s Club, Coach trip to Betws y Coed & Conwy Tel: 01248 811508 to book.
Thursday 19th July
Beaumaris 50s Club; Trip to RHS Flower Show at Tatton Park To book: Tel 01248 811508 Club Members £25, Non-Members £30
The 50s Club welcomes new members a full programme of events is planned for this term. Annual membership fee is £3
The January meeting of the 50s Club will be on Monday 29th January at 2.00pm.
A G M followed by Workshop "Health to Help You"
During the workshop there will be three speakers to give advice on the benefits of - Homeopathic Medicine, Reiki and Aloe Vera in relation to health and relaxation and the NHS Expert Patients Programme.
For further information please contact the Centre tel: 01248 811508
email: canior AT btconnect DOT com
---
To keep in touch with events locally here in Beaumaris and elsewhere on the island, subscribe to our free Anglesey Today Newsletter. Just complete the simple form below.
To contact Sue at the Anglesey Informer just click here


Return to Anglesey Community News from Beaumaris Community News

Return to Anglesey Today