Amlwch Community News
Get the latest Amlwch news and information on events in the local community.
The Anglesey Informer will keep you up to date with what's on in and around the town.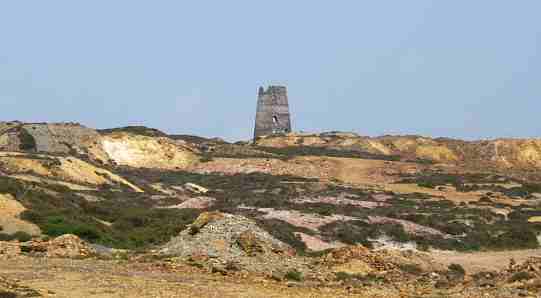 Below you will find the latest local news and events. If you want to include an event that you would like to promote feel free to enter the details in the box below.
Anglesey Informer will place the information here within 24 hours of receiving your details.

---
Thursday 26th -Saturday 28th July
Flower Festival; Amlwch English Methodist Church
Amlwch Scouts
Would you like your son to get involved in something educational which will be fun at the same time? Are you willing to help out? The First Amlwch Scout Group are looking to grow all sections of their group. This includes Beavers (6-8 years), Cubs (8-101/2 yrs), Scouts (101/2-14 yrs), Explorers (14-18 yrs), and Scout Network (18+ yrs). All groups meet in the Scout and Guide Hall, Amlwch. And from next January, girls will be welcome. A waiting list is now being prepared. Get more information from Mr J Atheley on 01407 830377 or ruth Purton (Cub Leader) on 07748 290925.
Amlwch Industrial Trust
The first meeting of 2007 will be on Thursday, 1 February at 7 p.m in the Sail Loft. Come along and enjoy a hotpot supper and see an exhibition of photographs. For more information and to book food, contact Gloria on 01407 832815. All are welocme.
Amlwch Pantomine Group
Amlwch Pantomime Group has been re-named Amlwch Showstoppers and will be a performing arts group for all ages. The main aspects of the group will be to develop and showcase talent, but at the same time to keep learning and improving. The group will be aiming to perform two shows a year and in the future the productions will range from variety shows, musicals, plays and dance. For our summer production, we are planning to take our shows on the road to Holyhead and Benllech, performing the last show here in the town. More details of this to follow. The next production is Peter Pan and will be at the Memorial Hall. Tickets: Adults £4, Concessions £3 - Friday 27th January, Saturday 28th January, Sunday 29th January 2pm


---
---
Eleth WI
The first meeting in 2007 will be on Tuesday 9 January when we will explore Tai Chi and Qigong. Our guest speaker will be Phil Mansfield. Eleth WI meet at Clwb-y-Gorlan, Amlwch at 7.30 p.m. Call (01407) 831512 or (01407) 830822 for more information.
Amlwch WI
Our meeting on 6 December at Clwb-Y-Gorlan was very eventful. A social afternoon was followed by carols and a "Snow White and the Three Dwarfs" production by the committee. All this was followed by tea and mince pies.
On 8 December, the President, Mrs Lord, hosted an enjoyable Christmas lunch. Mrs Lord wished all members a very Happy Christmas.
The next meeting will be at Clwb-Y-Gorlan on Wednesday, 3 January 2007 when our guest speaker will be Vivien Carter, talking about her sponsored cycle in Cuba. All are welcome. For more information call 831146.
Amlwch Physically Handicapped Group
We welocme new members to the group on the 2nd and 4th Thursday of the month at 2 pm at Clwb-Y-Gorlan. There is very good and a room for wheelchairs. Come and listen to visiting speakers or enjoy table games and have a chat. Refreshments are served and transport can be arranged locally.
We welcome volunteers to help with transport as the group's bus is now out of order. If you would like to help in any way or get more information please contact Mrs G Powel on 830588 or Mrs D Miller on 831317.
---
The best way to keep up to date with news and events on Anglesey is to subscribe to our free Anglesey Today Newsletter. Just complete this simple form here. It's as easy as 1-2-3!
If you would like to highlight a forthcoming event or give an account of a meeting recently held, just place your details on the form below and send them to Sue at the Anglesey Informer.
We aim to have the details posted within 24 hours.

Return to Anglesey Informer from Amlwch Community News
Return to Homepage